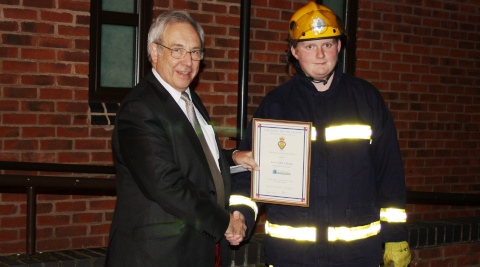 New Cheshire Police & Crime Commissioner John Dwyer rewarded young cadets from Nantwich for their fund-raising efforts.
Mr Dwyer, President of Royal British Legion Nantwich branch, presented awards to cadets who raised over £31,000 for the Poppy Appeal.
The fire cadet who collected the most money was Joe Young (pictured).
The Air Training Corps winner was Cadet Charlotte Vernon and the Army Cadet Force winner was Corporal Eleanor Walker.
The cadets helped to fill poppy boxes and collected on Nantwich Town square, Bridgemere Garden Centre and at Nantwich Town FC's Weaver Stadium.
Mr Dwyer said: "As Police & Crime Commissioner I hear many views about young people and this clearly shows not all young people are bad.
"These young cadets are prepared to give up their free time for good causes and what a worthwhile cause it is to collect donations for fallen forces past and present.
"I commend their efforts and was proud to visit them and present their awards."