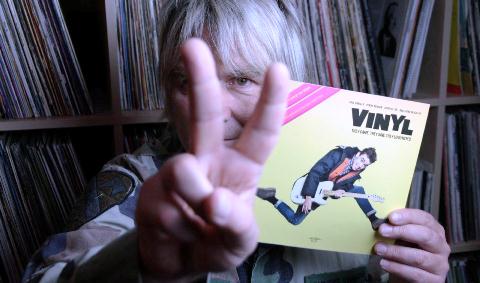 Musician Mike Peters is in the spotlight ahead of his appearance at this year's Nantwich Jazz, Blues and Music Festival.
The frontman of The Alarm is the focus of a new feature film starring Phil Daniels (Quadrophenia) and Keith Allen (Trainspotting).
The film Vinyl, which opened in Leicester Square last week, is based on the story of Mike's true rock and roll hoax of 2004.
It tells how a group of washed-up rockers hoodwinked top record labels, radio DJs, and the entire rock music world by releasing a pop punk single under a fictitious teenage band's name.
After a booze-fuelled jam session, Johnny Jones (Phil Daniels) and his old band-mates from the once revered The Weapons of Happiness come up with a great new pop punk single.
The problem is that no one is interested in re-signing a bunch of ageing rock stars.
But Johnny's not one to quit easily. And he has a plan – a hoax that will reveal the sham that the music industry has become.
Johnny and his band-mates assemble a talent-less bunch of teenagers to be the face of their new single.
The Weapons of Happiness teach these young upstarts how to talk the talk and walk the walk before unleashing them and their single upon the nation.
Vinyl is produced by John H Williams, of the Shrek series, Puss In Boots, Seven Years In Tibet, and Open Road.
Peters will performing an acoustic show at the Civic Hall in Nantwich on Sunday March 31.
He is known primarily as frontman of the internationally acclaimed Welsh band The Alarm and as guest vocalist for celt-rockers Big Country.
Achieving over 15 Top 40 UK singles and over 5 million album sales worldwide, his musical journey has seen him sing with some of history's greatest performers such as Bob Dylan, Neil Young and Bono.
Mike said: "On August 18 1979, I travelled to London to see Phil Daniels star in 'Quadrophenia' at a cinema on Oxford Street and then took the tube to Wembley to see The Who perform the soundtrack live.
"Vinyl provides Alarm and film fans with a similar opportunity to see the movie and then hear the soundtrack at the same time.
"It's going to be an amazing and one-off experience that will hopefully unite fans of cinema and rock and roll in an interesting way."
Mike is often dubbed by his friends and fans as 'the hardest working man in rock' and remains as passionate as ever about his music.
For tickets and more information visit www.nantwichjazz.com