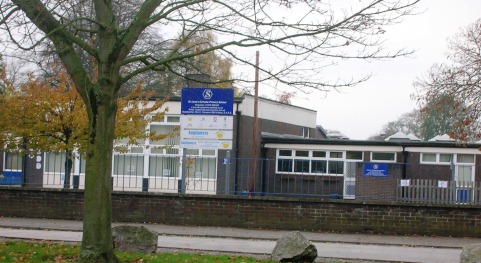 Parents in Nantwich are calling for action from Cheshire East Council to make a busy road safer near their children's primary school.
Surveys a year ago showed Wellington Road outside St Anne's Primary should have a lollipop lady and a zebra crossing.
Yet almost 12 months on there is still no crossing patrol in place and no start date for a crossing to be installed.
One mum Rachel Greenwood told how parents are becoming "very frustrated" with the lack of action.
They have even designed their own posters to put up in coffee shops and stores in the town advertising the post for a crossing patrol.
Mrs Greenwood, whose son has been at St Anne's for three years, said parents and children are risking their lives every day trying to cross the road.
"The surveys showed it met the requirements for a crossing and patrol, yet it is rumbling on and still nothing," she said.
"I called in to the job centre but they said they have to wait for Cheshire East to contact them to advertise the position. And we still have no lollipop person in place.
"There's only so much we can do. The council says it is advertised internally on the job section of its website, but I'm not sure many people go trawling on their looking for part-time work. More needs to be done.
"This is a very dangerous road. I try to walk every day, after all we want to reduce congestion down there. But to be honest it is so busy, we have to wait for someone to stop to let us across.
"People just don't want to cross that road, something needs to be in place now."
Nantwich South and Stapeley Councillors Andrew Martin and Peter Groves have been lobbying Cheshire East on parents' behalf.
Cllr Martin said: "As someone who has children I am very much aware how important this is. I appreciate there is a degree of frustration, that it appears to be taking some time.
"However, we are very much moving in the right direction and I would hope a crossing will be put in place in the 2013/14 financial year. I would also like to thank the parents who have been involved, for the time and effort that they have put in."
A spokesman for Cheshire East Council said: "Unfortunately, as with a number of sites in the borough, it has proved difficult to recruit to this post and it therefore remains vacant.
"We have worked with the school in an attempt to gain interest but to no avail."