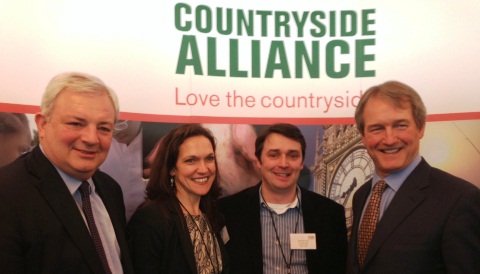 A couple who run a local butcher were invited to Parliament after winning through to the Countryside Alliance national annual awards.
Mark and Claire Burrows, of Bunbury, near Nantwich, made it through to the final after winning the "butchers" category in the North West competition.
Eddisbury MP Stephen O'Brien was at Westminster to welcome Claire and Mark Burrows, as well as N & J Owen, of Malpas Post Office & Stores, who competed in the Village Shop category.
Mr O'Brien said: "I was delighted that from thousands of nominations across the North West two businesses from my Eddisbury constituency were chosen as winners of their respective categories.
"Both businesses are extremely worthy winners and excellent examples of outstanding local service and produce.
"Burrows are my local butcher and I'm happy to personally attest to the matchless quality of their meat and all their products as well as their exceptional customer service – indeed my wife and I are regular customers."
Mr and Mrs Burrows also met Secretary of State for the Department of the Environment, Food and Rural Affairs Owen Paterson.
The couple said: "We were delighted to have won Best North West Rural Butcher of 2012. It confirmed our belief in supplying good quality, locally sourced products to our community.
"We thank all our nominees and look forward to serving them in 2013."
(Pic: Owen Paterson MP, Claire & Mark Burrows, and Stephen O'Brien MP)