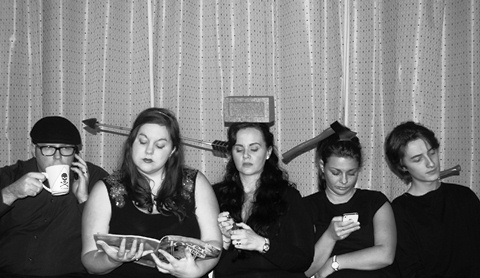 Theatre company Molyneux and Mother Murder Mysteries is to hold three murder mystery nights at Peckforton Castle near Nantwich.
The company will host the suspense-filled evenings, called "Bada Bing Bada Boom", on May 3, 4 and 24.
As detectives, participants can interrogate suspects but must choose questions wisely and beware whether suspects are what they seem.
Clare Molyneux, artistic director at Molyneux and Mother Murder Mysteries, said: "Our murder mystery evenings are a glamorous affair that provide an evening of excitement, entertainment and intrigue.
"I've been to murder mysteries before. They seem to be a lot of running about, making a show of yourself with a silly hat on while eating terrible food.
"Ours are different. Using professional actors and award-winning playwrights we perform a sophisticated bespoke script that is fast-paced, funny and fierce."
Fan Bill Addy said: "My wife had dragged me to a Murder Mystery before – it was terrible: they were amateurs – couldn't act, the story made no sense, it dragged on for hours and there was no food left when we got to the front of the buffet queue – it was like a bun fight!
"I was dreading going to the Molyneux and Mother Murder Mystery but it was brilliant. Professional actors, a clever but very funny story.
"You are waited on hand and foot by the waitresses and the food was some of the best I have ever eaten. They have been going for years and I can see why – because they are brilliant."
Matthew Naylor, sales and marketing director at Peckforton Castle, said: "We are delighted to be working with Molyneux and Mother Murder Mysteries, and to be venue of choice for hosting their murder mystery nights.
"The castle lends itself well to any special event and these nights will be an event not to be missed. We look forward to welcoming you to Peckforton Castle!"
The evenings are £45 which includes silver service three-course meal in the castle.
Those interested can email Rose Jones on [email protected], or call 0151 228 6445.