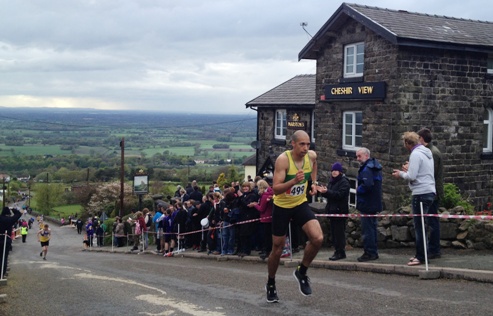 Hardy runners from Crewe and Nantwich tackled one the highlights of the year at the "killer mile" event in Mow Cop.
More than 500 runners braved the wind, rain and notorious Mow Cop hill, including several members of South Cheshire Harriers.
Competitors started at Station Road and hauled themselves up hill to the finish at Mow Cop Castle.
The event is organised by the Mow Cop Residents Association and consisted of six races with the Junior Fun Run (up to 11 years) on a shortened course, followed by the full mile for Under 18s, Club Runners, Adult Races 1 and 2, and Veterans (over 40).
Several hundred spectators lined the route and 11-year-old Jack Williamson, who runs for Crewe & Nantwich Athletic Club, won the Junior Fun Run.
There were numerous representatives from South Cheshire Harriers, and teams representing the Royal Marines and the Territorial Army.
Several runners wore fancy dress including a Queen Victoria and Nintendo's mascot Mario and many were raising money for charity including Caudwell Children.
Tim Wedgwood presented his BBC Radio Stoke evening show live from outside the "Cheshire View" pub at the steepest section of the route and interviewed several participants and spectators.
Winners of the Junior Fun Run were Jack Williamson and Ebony Windsor.
The under 18s winners were Jacob Brown and Sophie Goodfellow. The club runners race was won by Steven Vernon – in the fastest time of the night in six minutes 40 second – and Wendy Swift.
The first adult race was won by David McGuire and Sarah Grant with Neil Gerrity and Mandy Vernon coming out on top in the second race.
Winners of the veterans race were Edward Davies and Emma Timmis.
All the money raised is put back into local community projects such as flower planting and the Christmas celebrations.
Race photos will be available from Bryan Dale.
Race results will be published here within seven days of the event.
(Pics by Jonathan White)