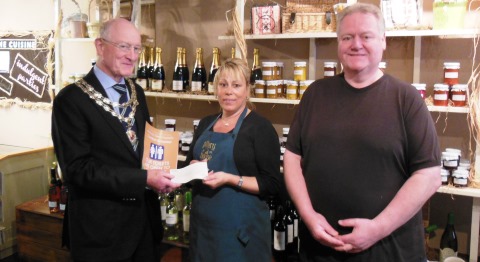 Shoppers and visitors in Nantwich won't be caught short thanks to a new "comfort" scheme offering more loos!
Traders and Nantwich Town Council have tamed up to ensure there will be plenty of toilet facilities on offer across the town.
Under the scheme, participating businesses will allow members of the public to use their toilets free of charge during normal opening hours.
In return, the council will pay a small annual fee to each business taking part, depending on the facilities offered.
This means there will be no pressure on visitors to make a purchase before using an outlet's loo.
Participating premises will display a poster in their window advertising the service.
The owners of Pillory House, one of the first to sign up, are welcomed into the scheme by new Nantwich Mayor Cllr John Lewis.
Cllr Lewis said: "This scheme supplements the facilities elsewhere in the town and will help while Snow Hill toilets are being refurbished.
"It's another example of co-operation between the town council and traders in our efforts to ensure that Nantwich continues to attract people to visit and shop in the town.
"I am delighted by the response from the traders and we look forward to working with them to provide an important service for visitors and residents alike."
Participating businesses include Hiltons Cafe, Piecemeal Cafe, Pillory House, The Wickstead Arms, Relish Deli, The White Horse, Molly's Tea Shoppe, McCormick's, Nantwich Museum and Cafe Nero.