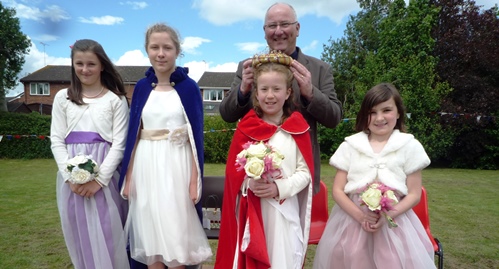 By Jonathan White
Villagers were out in force to enjoy the annual Wistaston Village Fete near Nantwich.
The event, organised by Wistaston Community Council and took place in the grounds of St Mary's Church Rectory, in Church Lane.
The event began with a procession from Wistaston Memorial Hall led by Scottish Piper Reg Flower, followed by the 35th South West Cheshire Scout group with the Union Jack flag.
Last year's Wistaston Rose Queen (Daisy Wybrow) and her Attendant (Emma Bishop) followed in an open-top sports car and this year's Wistaston Rose Queen (Naomi Barker) and her Attendant (Poppy Bellingham) in a open-top vintage car.
Daisy Wybrow thanked Wistonians for their support and said £1,147.60 had been raised for Save the Children during her year of office.
St Mary's Wistaston Rector Mike Turnbull passed the crown from Daisy to this year's Rose Queen Naomi Barker.
Naomi officially opened the Fete and stated that her chosen charity this year is Alder Hey Children's Hospital in Liverpool.
Geoff Armitage, of Wistaston Community Council, was Master of Ceremonies and introduced each event in the arena.
Fifteen children took part in the fancy dress competition and entries included Spiderman, Superman, Batman, Bob the Builder, a knight in armour, a robot, and several princesses.
The winner was 15-month-old Jack Rhys Chadwick, from Wistaston, for his gnome on a toadstool with fishing rod costume and he received his prize from 2012 Wistonian of the year Laurie Clough.
The arena included displays by Scottish Piper Reginald Flower, dancing from the Nantwich & District Scottish Society, Miss Caroline's School of Dance X-Cite (6-11yrs) & X-Cell (12-15yrs) street-dance crews and gymnastics from The Cheshire Academy of Integrated Sports and Arts.
There were over 30 stalls representing local organisations and charities, plus Snugbury's Ice Cream and two bouncy castles.
In St Mary's Church Hall there was a cafe and displays by the Wistaston Church Lane Primary School choir, Fraser School of Irish Dancing and Zumba Crewe & Nantwich.
Mayor of Cheshire East Council, Cllr Dorothy Flude was a special guest and was shown around the Fete by Dane Chaplow from the Wistaston Community Council.
Cllr Flude said: "I am thrilled this year they had some good weather and the Fete is as popular as ever – it is a credit to all the people who organise the event.
"I'm sure all the young people who took part in the Arena and Hall were thrilled by the audience participation. I wish it well for the future as the village Fete is an important part of village life and one of our wonderful English traditions."
Dane Chaplow said: "It's been a complete change in the weather from last year and the turnout has been brilliant.
"We hope that lots of money is raised for local charities and the Wistaston Community Council. Once again the Reverend Mike Turnbull and his church have been very supportive."
Admission to the Fete was by donation and proceeds from the gate receipts and Wistaston Community Council stalls will go to local fledgling organisations.
Other Wistaston village events organised by Wistaston Community Council include the Flower and Produce Show, Spring and Christmas Concerts, and the November Fireworks Display.
For information on joining the Wistaston Community Council please visit http://www.wistastoncommunity.co.uk