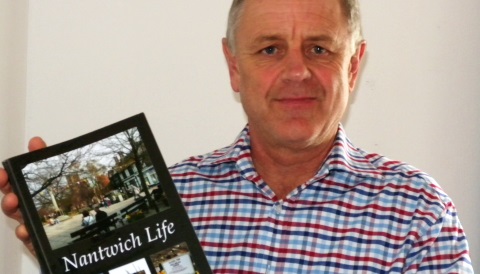 A second new book about life in Nantwich is set to be unveiled this weekend.
"Nantwich Life II" has been compiled by local author Gareth Roberts.
It's a follow up to his first "Nantwich Life" book in 2011, which raised money for the Nantwich Players Theatre Project.
Gareth will be Nantwich Bookshop in High Street this Saturday July 13 to promote the book and sign copies, between 12.30pm and 1.30pm.
"Nantwich Life II" contains 35 chapters and over 130 photographs, offering an insight into present day Nantwich and a taste of the past.
Contributors of the book are event organisers and people involved in local businesses and organisations.
Among them are John Dwyer, describing his role as Cheshire's Police Commissioner and Policing in Nantwich, and Hannah Sadler, telling us how the Sculptures at Snugburys Ice Cream have become a huge attraction in South Cheshire.
Emily Warhurst is also featured, giving a brief history about Nantwich Market, while John Prince writes about his long association and the success of Nantwich Cricket Club.
Claire Faulkner describes how Nantwich celebrated the Diamond Jubilee, while Gerald Newbrook details the Scout movement developed in Nantwich.
David Farrall offers an update on grass roots football in Nantwich, and Richard Moyatt tells of the challenges he faced during his long association with the historic Churches Mansion.
The book will be on sale for £9.95 at Nantwich Bookshop, with proceeds going to the Nantwich Players' Theatre Project.
A full list of Nantwich Life II contributors:
David T. Greatorex; Kate Dobson; Gemma Robertson; John Prince; Harry Clewlow; Joan Furber; David Farrall; Richard Myott;Steven Burgin; Mark Embrey; Claire Faulkner; Graham Binningsley; Dave Hulse; John Corbett; Hannah Sadler; Maureen Edwards; Peter Harrington; Joyce Percival; Nicola Tooke; Rachel Griffiths; Emily Warhurst; Derek Poppleton; Alex Russell; Joe Rogerson; Adam Vernon; John Dwyer; Jeff Stubbs; Mark Potts; Colin Baxter; Henry Passmore; Sandra Houlston; Jerry Park; Ian Bray.
(Pic: Gareth Roberts at the launch of his first "Nantwich Life" book in 2011)