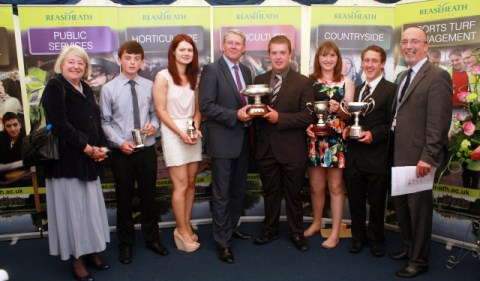 Reaseheath College in Nantwich has notched up a record year of student enrolments and achievements.
The college's annual awards ceremony celebrated the success of over 1,200 graduating FE students who have achieved industry qualifications and skills.
The students are now preparing for careers in agriculture, environmental conservation, animal or equine management, engineering, motor vehicle, business, food manufacture, floristry, horticulture, forestry, construction or in leisure industries such as sport and outdoor adventure.
Principal Meredydd David said a survey shows 93% of Reaseheath's students progress into employment or onto higher level courses.
And he said Reaseheath students had the "power and opportunity to make a real difference by protecting the environment and supporting sustainable production and lifestyles".
Students were also congratulated for their voluntary activities and community projects. They helped to raise more than £10,000 for good causes.
Student prizes and certificates were presented by Lord Lieutenant of Cheshire David Briggs, by President of the National Farmers Union Peter Kendal and by local vet and television presenter Steve Leonard.
Five outstanding students were selected to receive special awards.
Luke Evans, an Adventure Sport student, was chosen as the student making the best contribution to college life.
Best friends Lucy Simm and Hayley Carr, Animal Management students, were selected for making the best all round contribution to the college.
David Power, a Vehicle Maintenance student, was singled out for personal qualities after he lost both parents and had to care for his grandmother while completing his course.
James McKenzie was recognised for contributing most to Reaseheath's sporting activities, and in particular for his involvement with the college's rugby team.
Talented engineer James Scott, a construction plant apprentice, was awarded the Beacon Trophy celebrating excellence.