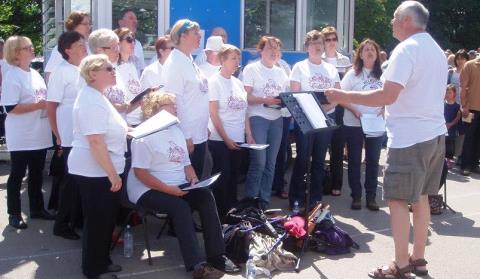 The Funky Choir in Nantwich have been putting their vocal chords to good use.
The popular faith-based group has been performing at a series of community events over the last few weeks.
They supported the Orla Ward fundraiser for A-T (Ataxia Telangiectasia) at the Funky Monkey Café in Regents College, Nantwich, on Saturday (July 20).
"Our involvement along with other organisations was to make people aware of A-T and raise much needed funds for the A-T Society's research projects," said choir spokesman Richard Chaplow.
"A-T is a rare neurodegenerative condition which affects young children causing severe disability and premature death."
Yesterday, (July 21), the Choir entertained the crowds at the Aqueduct Marina Open Day in Church Minshull, Nantwich.
The choir were back by popular demand after going down a treat at the same event in 2012.
Other events the choir has performed at included the World Worm Charming Championships in Willaston in June.
The choir practises every Thursday between 7.45pm and 9.45pm at the Olive Grove conference centre in Regents Park, London Road.
For more information on the choir visit their website.