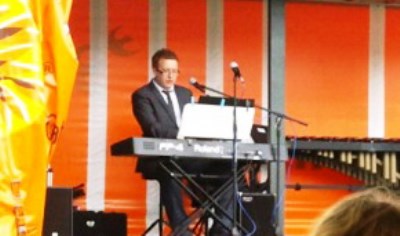 Nantwich Town Council's  programme of town centre Saturday Street Entertainment features Tom Seals tomorrow (August 10).
Tom, who studied at Paul McCartney's world famous and prestigious LIPA (Liverpool Institute for Performing Arts), will be performing from 11am until 2pm.
His current projects include working with multi-platinum selling soul star Kenny Thomas, a support slot with The Guillemots star Fyfe Dangerfield, and time spent working on board the P&O Cruise Ship Azura as a guest entertainer.
At his ultimate best behind the piano, Tom continues to live and breathe gigs in pubs, clubs and on the festival circuit.
Then, on August 17, there will be a display from "Ceroc Dance Addiction" in the town square between 11am and 2pm.
Ceroc is a popular dance sometimes referred to as modern jive is a fusion of salsa, ballroom, hip hop, tango and jive.
Ceroc Nantwich meets every Tuesday evening at Nantwich Civic Hall. For further information visit www.cerocaddiction.com
Cllr David Marren, chair of Town Plan and Partnership Committee, said: "Nantwich provides a wonderful backdrop for performance and this year's programme has featured the very best of our local talent.
"The recent dance event in June proved what a wealth of talent we have. The programme has been a real success making the town centre a vibrant place to visit for locals and visitors alike."
Details of this summer's programme of entertainment is on town centre notice boards and Nantwich Town Council website at www.nantwichtowncouncil.gov.uk
(pic courtesy of www.tomseals.co.uk)