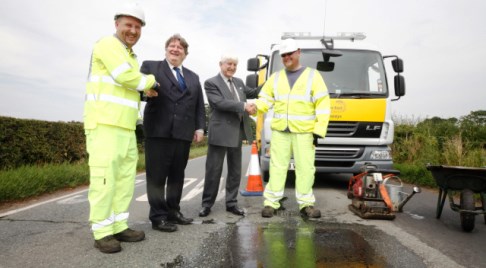 More than 18,000 potholes on Nantwich roads have been repaired so far in 2013, according to Cheshire East Council figures.
And 50,000 repairs across the borough have been carried out since January as part of a major funding injection.
Cheshire East Council earmarked £25 million for pothole work, after stories on Nantwichnews showed the level of anger among residents at the state of our roads.
Cheshire East launched its "Tell Dave" campaign by urging residents to contact a hotline with locations of the worst affected roads.
Council chiefs say successive bad winters and previous under-investment caused the high number of defects.
A Freedom of Information request by Nantwichnews earlier this year showed £32,000 was paid out to drivers in compensation in 2012 for pothole-damage cars – double the amount in 2011.
And that there were 519 complaints lodged against the council, compared to 226 the year before.
Since January, 18,420 repairs have been done in Nantwich LAP, 5,615 in Crewe, 9,640 in Congleton, 6,074 in Macclesfield, and 7,776 in Knutsford.
Cllr David Topping, Cabinet member in charge of roads, said: "I am very happy we have reached our target of filling 50,000 potholes and would like to thank residents for reporting them to us.
"We faced a huge task in improving the roads but I am delighted to say we are achieving our targets and I hope people can see the improvements.
"We know we still have more work to do and I encourage residents to continue reporting potholes to us."
Alongside repairing potholes, surface dressing is currently taking place across Cheshire East.
You can report a pothole via the council's website at: www.cheshireeasthighways.org/ReportIt, or ring the highways team on 0300 123 5020.
(Pic: r to l – CEC officer Jason Brookes, Council Leader Michael Jones, CEC officer Darren Chambers, Councillor David Topping, cabinet member in charge of the environment)
Do you know of any bad potholes? Is your street in a state? 
Add your comments (below) or tweet us @nantwichnews with other examples of bad potholes in the Nantwich area
You can also report potholes on www.fixmystreet.com and these will be forwarded to relevant highways authorities