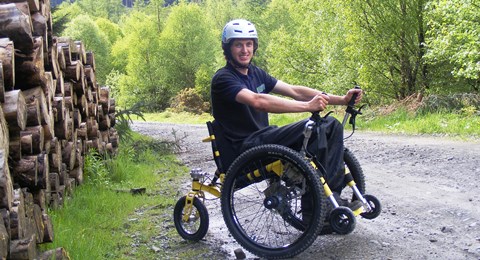 Nantwich entrepreneur and businessman Tim Morgan made his debut TV appearance on Dragons' Den with his Mountain Trike invention.
Tim faced the Dragons in a bid to secure investment for his unique all-terrain wheelchair.
He was looking for an investment of £100,000 for a 5% share in the business – the bulk of the investment was needed to make the very expensive casting tools.
And he was joined in "The Den" on the BBC2 show last night (September 8) by one of Mountain Trike's first customers, Richard Brooks.
Tim endured an intense pitch with very positive compliments about the Trike's purpose and performance.
But questions were raised about the valuation of the company. Eventually, Deborah Meaden offered the full investment but for 15% of the business.
Tim said afterwards: "It was a very tough but exciting experience.
"I had a good solid pitch and some great testimonials which raised some interesting questions and answers between the Dragons and Richard Brooks.
"I knew it was going to be intense but I am passionate about my product and know it inside out and although they questioned the company's valuation I am very proud they applauded the Trike's purpose and my presentation."
Tim turned down Meaden's offer as directors of the business were not willing to give up 15% of the business.
He added: "It was fantastic to receive an offer from a Dragon and if I'm honest probably better than I expected.
"Whilst I know the investment would have instantly taken Mountain Trike to the next level, I just couldn't budge on the percentage share in the company.
"It was a fantastic experience and amazing to have such positive feedback about the product from such influential people."
For more information about the product www.mountaintrike.com and if you missed the episode it is available on BBCiPlayer http://www.bbc.co.uk/iplayer/episode/b03b4w2m/Dragons_Den_Series_11_Episode_5/
See the show on BBC iPlayer here.