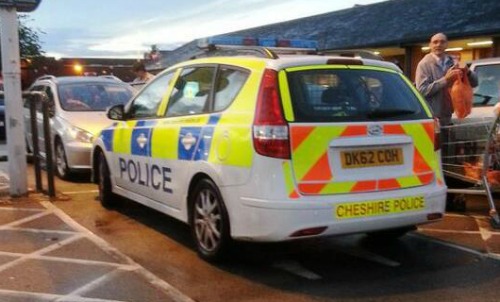 Cheshire Police are investigating why officers left their patrol car in a supermarket parent and toddler space.
Shoppers were left fuming after the officers decided to leave their fully-liveried police vehicle in one of the marked bays.
The bays are designed to be wider to make it easier for parents with young children using pushchairs.
Readers took to Twitter to vent their anger after one shopper posted this picture on the social network site.
The patrol car was spotted in the Sainsbury's supermarket car park at about 8pm at the Cheshire Oaks shopping centre on September 9.
Now Cheshire Police Crime Commissioner John Dwyer has asked for an investigation into why this was allowed to happen.
Mr Dwyer, a former Crewe and Nantwich councillor, thanked Nantwichnews for forwarding the picture.
"Thanks for alerting us to this," he said.
"We are now investigating the matter. It has been referred to the Constabulary for investigation."