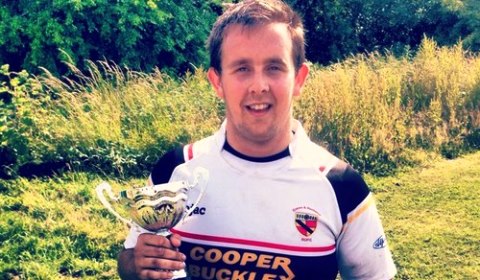 A Crewe & Nantwich RUFC player is battling to save the use of his legs after a freak accident on the pitch.
Vagrants star Kieran Flynn (pictured) broke his neck in a horror tackle during a pre-season clash against Christleton.
The injury left Kieran without the use of his legs and he is now being treated by specialists at Oswestry Hospital.
Rugby players, fans and other names from the sporting world have rallied round to offer their support.
On Twitter, Kieran wrote: "Guys, I just want to say, thank you all so much for your kind messages during this difficult time.It really does mean so much to me."
Jon Cockburn, Crewe & Nantwich RUFC chairman, said: "On a positive note he does have some tingling sensations in his legs, which we can only see as a positive.
"The full extent of his injuries are still unknown but progress is being made.
"A number of professional players/clubs from all sports have already contacted him and any messages from yourselves or others will would help to keep up his spirits up.
"The challenge ahead is to keep him motivated long term. The RFU have been fantastically supportive to both Kieran and his family.
"And the Injured Players Foundation (IPF) has been second to none in the service they have already given and immediately provided him with an iPad which has proved invaluable in keeping him in contact with friends and family.
"We appreciate it is going to be a long road to recovery but his ambition is to be at the ground for the last game of the season.
"Let's hope and pray that will be the case.
"As a club, Crewe & Nantwich RUFC are very grateful to the support already shown by individuals/other clubs and the RFU and your future support would be greatly appreciated in keeping his motivation/recovery going."
Messages of support can be sent to Keiran on [email protected], or on Twitter @KieFlynn.