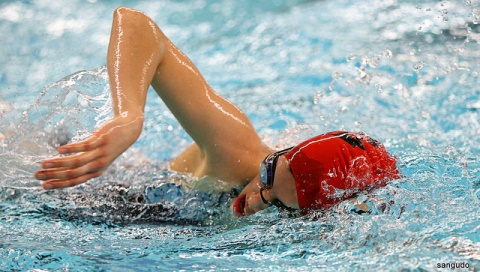 Nantwich Seals swimming club has returned to action in the latest round of the National Arena Swimming League.
The club, based out of Nantwich Pool, took a strong squad to compete at Knowsley Culture & Leisure Park, on Merseyside.
And swimmers young and old did their club proud with a string of excellent performances in the North West Minor Division.
Nantwich Seals took a team of 27 swimmers from ages 10 to 18 to compete in a round of 40 races, including 32 individual and eight mixed relays.
Nantwich swimmers produced 18 personal bests on the night, finishing seventh out of eight teams on 122 points.
"The arena league is a step up for us, it is a national league and quite tough," said a Seals spokesman.
"We are a relatively small club – around 125 members – and this is really good experience for the kids."
Clubs throughout Britain compete in their regions in the national league once a month.
There will also be fixtures in November and December.
(Pic courtesy of Sangudo, Flickr Creative Commons)