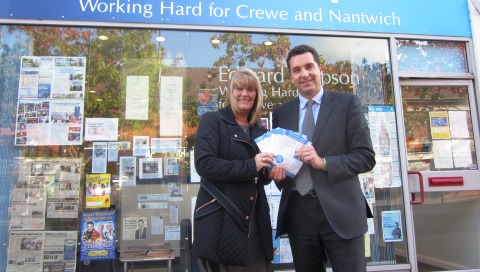 Crewe & Nantwich MP Edward Timpson has backed the St Luke's Hospice 25th anniversary campaign to raise vital funds.
The Cheshire hospice has launched a "Regular Giving Campaign" to encourage more donors to come forward.
Mr Timpson is calling on the hospice's supporters to help secure long-term patient care.
The campaign is inviting locals to donate as little as £2 a month through its new "Regular Giving" plan.
He said: "Over the last 25 years, the hospice has been indebted to its wonderful and dedicated network of supporters.
"Thanks to your ongoing support the hospice has touched the lives of thousands of families, and I've seen for myself the incredible care they provide to people from across Mid and South Cheshire."
St Luke's head of community fundraising Diane Eeley added: "Regular Giving enables us to sustain our future with more confidence and reach more local people and their families and friends.
"It is also a great, easy and effective way of helping your local hospice maintain its free services to local people."
£2 a month enables the hospice to provide two meals for a patient during respite breaks at St Luke's or visiting the day hospice.
More than £6,500 a day is needed for St Luke's Cheshire Hospice to open its doors.
Most of that money is found through supporters and fundraisers.
If you can help call St Luke's (Cheshire) Hospice on 01606 555887, visit www.stlukes-hospice.co.uk/ways-to-support-us/regular-giving/ or email [email protected]