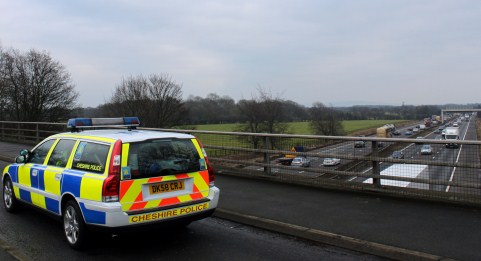 More than 100 motorway driving offences were spotted in Cheshire and the North West during a police crackdown.
The North West Motorway Police Group held a day action targeting drivers on Cheshire's M6, M56, M62 and other routes.
Officers targeted criminals using the network to commit crimes and illegal drivers who risk other road users by driving uninsured or unsafe vehicles.
In total, 224 vehicles were stopped and 47 motorists were breathalysed.
Officers identified 102 road traffic offences and seized 39 vehicles for offences such as no licence or insurance.
A stolen motorbike was also recovered.
The crackdown involved Cheshire Police working with colleagues at Merseyside, Lancashire and Greater Manchester.
It also involved the Highways Agency and other partners including the Vehicle Operating and Services Agency (VOSA), HMRC and Trading Standards.
The North West Motorway Police Group′s control room, based in the Highway Agency regional control centre off the M6 at Newton-le-Willows, coordinated the day.
Chief Insp Rachel Buckle, who led the operation, said: "The region′s motorway officers came together to demonstrate their commitment to keeping the roads safe for commuters and preventing criminals from making use of the motorways to conduct their illegal activities.
"The North West Motorway Policing Group was out in force to prevent the criminal use of the network, to tackle unsafe and uninsured vehicles and to provide safety advice to road users."