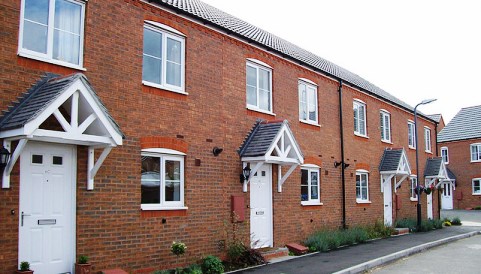 Cheshire East Council is to receive more than £5 million in a "New Homes Bonus" grant from the Government in 2014.
It's one of the largest payouts in the North West – and has sparked criticism from campaigners fighting over-development in areas like Nantwich.
Cheshire East is to get just over £5.27 million in 2014-15, which takes their total bonus since 2011 to more than £12.8 million.
It was paid after the authority increased the net amount of properties by 2,549 between 2011-15, which includes 1,236 empty houses brought back into use and 696 "affordable" properties.
The allocation for 2014/15 means Cheshire as a whole will have received £34.1 million over a four-year period for providing 8,127 newly-built homes and conversions, and bringing 2,269 empty homes back into use.
But campaigners in Nantwich say there are already too many new houses being built in the area.
The current pre submission Core Strategy gives a figure of 1,850 houses for Nantwich – up from 1,500 in the previous document – from 2010 to 2013.
But Pat Cullen, of Protect Stapeley campaign, says this figure is already surpassed with potential Nantwich developments at Kingsley Fields, Stapeley Gardens, Audlem Road and Peter de Stapleigh Way amounting to 2,029 homes.
"In addition, there is a new application just in, for 15 houses off Welshman's Lane," added Mr Cullen.
"While I'm sure CEC is happy to receive this money, owing to no five-year land supply, it is still being held hostage by developers so can't help but receive some of the money.
"On the other hand, if Cheshire East goes over the housing figures quoted in the Pre Submission Core Strategy, then residents will start to think  it is after the money rather than looking after the needs of local people.
"As far as Nantwich is concerned, the New Homes Bonus payments have reached their limit."
Official for National Statistics figures show housing construction has risen to its highest levels since 2007.
Under the New Homes Bonus, councils have been rewarded for helping to provide 550,000 newly-built homes and conversions and bringing 93,000 empty homes back into use. This total includes over 160,000 affordable homes.
Housing Minister Kris Hopkins said local authorities are free to spend the money as they see fit.
"Councils have received over £2 billion for their part in getting Britain building, and leading to housing construction reaching its highest levels for seven years," said Mr Hopkins.
"And they are free to spend the money any way they like to benefit their local communities – whether that's supporting front-line services, providing new facilities or freezing council tax."
Communities Minister Stephen Williams added: "The New Homes Bonus is a shot in the arm for councils tackling the problem of abandoned homes and urban blight locally.
"The number of long term empty homes has already fallen by 93,000 and we are now going further, giving councils the incentive to bring people, shops and jobs back to once abandoned areas, and to provide extra affordable homes we so badly need."
(pic by lydia_shiningbrightly, under Flickr Creative Commons licence)