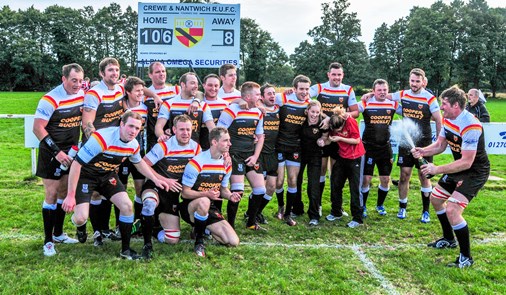 Crewe & Nantwich RUFC coach Andy Brown believes the 1st team could be playing National League rugby in two years.
Brown hailed a stunning first half of the season for the Vagrants team which saw them top Midlands 2 West (North) at Christmas.
Now the Vagrants side are just 11 games away from promotion to Midlands North West 1 – the highest ever level and just one league below the National League.
Crewe's postponed home game against Tamworth on Saturday meant they slipped to third place as title rivals Leek and Moseley Oak both played and won.
Brown said: "We will target every team week by week. It will be harder in the second half of the season as teams have now played us and are more aware of our style of play.
"Winning the league championship is our absolute target to put the club into Midlands North West 1 in 2014/15, one below National League.
"We have the squad to put the club into the highest standard of rugby in its history but we need all your help.
"If every player in every team commits to training, standards will rise through competition for places, improved skills and fitness and consistent performances.
"It is a club effort, not just a 1st XV effort that could just possibly see Crewe & Nantwich playing National league rugby in next couple of years.
"What an achievement that would be for a team that not so long ago played on a public park in the middle of Nantwich!"
The 1st team returns to league action this weekend away at Wolverhampton who they beat 35-25 at home in October.
Brown also hailed the achievements of the 2nds, 3rds and 4ths, who are all challenging in their respective leagues.
"There is one key factor that has affected all teams in the first half of the season," he added.
"The retirement/exit of 17 players, 10 of which are backs plus the lengthy injury list currently standing at 12 players, six of which are backs, some of them long term injuries.
"This has had a detrimental effect on all teams particularly the 3rds and 4ths who have struggled for players some weeks.
"However, the spirit of the club has won through and at the half way stage of the season, we are all in good shape.
"Hopefully, some of those players will return both from retirement and injury and provide a welcome boost for the 2nd half of the season."
Crewe & Nantwich 2nds welcome Burnage 3rds to the Vagrants this weekend, who they tied with 22-22 in their last encounter.
The 3rds, nine points off third place, face a trip to Linley 2nds on Saturday, who they defeated 34-0 at home earlier in the campaign.
The 4th team, currently eighth in the league, play Manchester at home on Saturday with a top four place in their sights.
(pic courtesy of Peter Curtis-Brown)