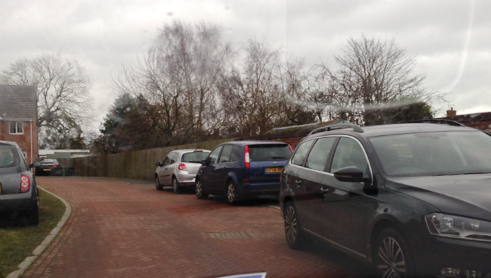 Police have warned residents of a Nantwich village their cars could be towed away if they continue to park badly.
A letter from Nantwich Police has been delivered to residents in Willaston in a bid to tackle the growing problem of parked vehicles causing obstruction.
Dozens of complaints have been lodged regarding parking in the Wistaston Road and Meadow View area of the village.
It became so bad, the essential 84 bus service for the village had to divert as it could not get through.
Nantwich PCSO Nick Jarvis states: "I ask you to think where you are parking, making sure that no obstructions are taking place.
"Please ask any visitors to your property to do the same. We understand the issues in the area with a large number of terraced houses without parking facilities and we do take this into consideration.
"Blocking a vehicle in or obstructing the highway or footpath is the offence of unnecessary obstruction or wilful obstruction and tickets could be issued.
"Worst case scenario is that your vehicle could be towed away at the expense of the vehicle owner."
Willaston and Rope Ward Cllr Brian Silvester has welcomed the police action.
He said: "I have been pressing the police to take action for some time.
"They have now sent out letters to all the residents in the area. I hope the police are good to their word and do not hesitate to hand out fines to the minority of thoughtless motorists who are parking their vehicles in a dangerous way."
We revealed last week that Cheshire East Council has agreed to fund a £5,000 traffic study in the area to draw up a plan to tackle the issues.