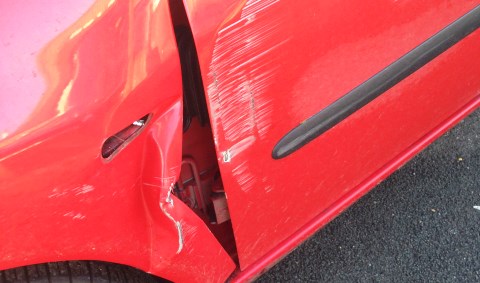 A young driver revealed how he was shunted into a roundabout on a busy Nantwich road by a van which failed to stop.
Lewis Theobald's car was written off in the incident at the A51 roundabout near Reaseheath College, Nantwich.
Police are now appealing for help to trace the van driver who fled from the scene down the A51 bypass towards the Middlewich Road and Sainsbury's roundabout.
Lewis, 21, who works for Surefire Media in Nantwich, was driving to work in his red Seat Ibiza from his home in Hoole, Chester when the incident happened.
"I was in the right hand lane going right on the roundabout and pulled off onto the B5074 and the van was to my left going straight on continuing towards the A51 Sainsbury's roundabout," he said.
"It was annoying as I'd been stuck behind three lorries and vans since I joined the A534 at Chester.
"As soon as it happened I pulled off the roundabout, stopped where it was safe and reported it to the police and my insurance.
"It's one of those things that when you've never been in the situation you're unsure how to react, and my initial response was to panic instead of catch the number plate."
Lewis' car had its door almost knocked clean off in the crash which left one side crushed inwards. He believes the van will also have been damaged in the accident.
"Only when I got out to check did I realise the extent of the damage," he added.
"It's only a small car but the bump managed to completely knock off my door to the point where it doesn't open, push up my front panel and my bonnet.
"My mirror was the only part that had minor scratches on and you can follow the paint scratches on the car to see the angle the van hit me at.
"There isn't anyway the van driver couldn't of heard it. It must of left quite a mark on his van too – or at least my red paint."
Lewis has retraced the entire route he took when behind the van to try and find CCTV cameras which may have picked up the registration plate, but has had no luck.
"I'm still waiting to hear from the garage to arrange a pickup and my car is stranded in Nantwich, I haven't even heard if I get a courtesy car in the mean time or if that is also funded from my own pocket.
"It's sad to say but you're only treated with any priority if you're injured, otherwise you're near the bottom of a somewhat huge list.
"Nantwich was busy when I was driving in and there was quite a pile-up, so there has to have been at least a single witness."
The incident happened at about 8.30am yesterday (Thursday February 13).
Sgt Richard Tomlinson, of Nantwich Police, confirmed the incident is currently being investigated and said "there are obvious lines of enquiry being followed up".
"The enquiry is progressing positively. We have already traced a witness who has provided some valuable information," he added.
Anyone with information can contact Cheshire Police on the non-emergency number 101.
(Pics: Lewis' battered car after the incident)