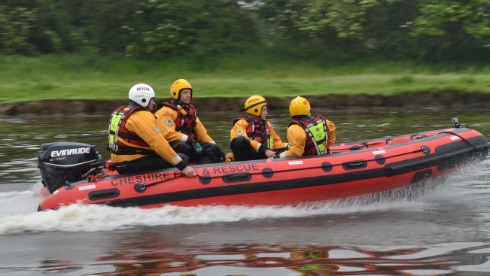 Cheshire fire crews have taken a specialist boat to help colleagues battling in the worst flooded areas of Britain.
The Cheshire Fire and Rescue boat and its crew have been deployed to Berkshire.
Four firefighters local fire stations have taken equipment and the service's rescue boat to use as a wading response to ferry equipment and personnel.
It is the fifth group of firefighters and officers from Cheshire to have been sent to the south of England.
They will be expected to work alongside and support local fire and rescue services for the next four days.
In the first deployment a crew of five firefighters from Congleton, accompanied by station manager Stewart Forshaw, took a high volume pump appliance to Kidderminster where they are working with Hereford and Worcester Fire and Rescue Service.
In a second deployment, station manager Mark Coleman and five firefighters went to Maidenhead with a fire engine and dry suits for working in water where they will liaise with Berkshire Fire and Rescue Service.
The third and fourth deployments led by Paul Watts and Duncan Palin with crews have been sent to relieve colleagues from previous deployments.
All requests for Cheshire's help have come from the Fire and Rescue Service National Coordination Centre, who are coordinating the national response to some of the worst, prolonged flooding the country has known.