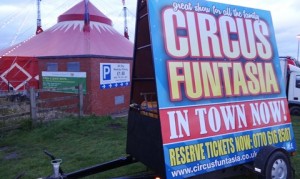 By Jonathan White
The circus has been in town again over the past week, entertaining hundreds of families.
Circus Funtasia has been thrilling audiences at its big top on the car park of Nantwich Town FC on Waterlode sinceWednesday.
The show was a thrilling spectacle under the circus tent within the grounds of Nantwich Town Football Club.
Ringmistress Tracy Jones introduced each of the international acts within this all human travelling circus.
The circus included acrobats, clowns, a Hula Hoop expert, a high wire act, an aerial straps act, a Cloud Swing act, jugglers and the Wheel of Death.
There was comedy along with feats of courage and physical strength.
I held my breath on several occasions, particularly during the high wire act and the Wheel of Death, and was in awe at the skill and professionalism of the performers.
Refreshments (including tea, coffee, popcorn, candyfloss, and hot dogs) were available before the performance and during the interval, along with face painting, and children's novelties.
I thoroughly recommend a visit the next time they are in the area.