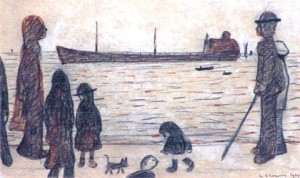 Nantwich auctioneers Peter Wilson are to stage one of the biggest auctions of works by Northern artists for many years.
More than 200 works by famous artists like L.S. Lowry, Geoffrey Key, William Turner, Arthur Delaney, Donald McIntyre and Alan Lowndes will be sold on Thursday May 1.
It will be the second of a two-day sale at the auctioneers' Victoria Gallery on Market Street.
Leading the sale is Lowry's iconic "People on a Promenade", signed and dated 1969 and inscribed "To Lawrence Ives from L. S. Lowry".
The painting is estimated at £45,000-50,000. Lawrence Ives was a respected child psychologist and one of Lowry's closest friends.
Lowry had lived at The Elms in Mottram-in-Longdendale, since 1948 and the late Mr Ives and his wife, Daphne, moved there in 1959.
As child psychologists, the couple understood the artist's complex personality and Mr Ives quickly realised that he should never ask to buy a painting or a drawing from Lowry.
Lowry began their collection by offering to sell them a painting at two-thirds the normal price. This discount continued for every purchase they made.
The Ives Collection of 17 works by L.S. Lowry was sold in a Christie's sale of 20th Century British Art on November 24, 2000.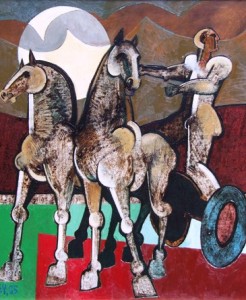 Pick of a number of works by Geoffrey Key are two oils on board, called "Horses and Chariot" (pictured) and "Three Horses and Riders".
Each are estimated at £10,000-15,000, as is a seated nude, another oil on board.
Alan Lowndes is represented by "Amanda and Martin", estimated at £15,000-20,000.
Another Manchester artist, William Turner's "Rain in Bury", which shows a disheartened bunch of pedestrians on a pavement against an industrial backdrop, is estimated at £9,000-10,000.
Arthur Delaney's ubiquitous trams appear in two Manchester street scenes with estimates ranging from £3,000-4,000.
Other works in the sale includes ones by Yorkshire-born Donald McIntyre and French street artist Blek Le Rat.
Day one of the sale includes collectors' items; books, maps postcards and stamps; ceramics and glass; Asian art; silver and jewellery.
Pre-sale auctions are Sunday April 27: 2-4pm; Monday April 28, 10am-5pm; Tuesday April 29, 10am-4pm and on the morning of the sales from 9-11am.