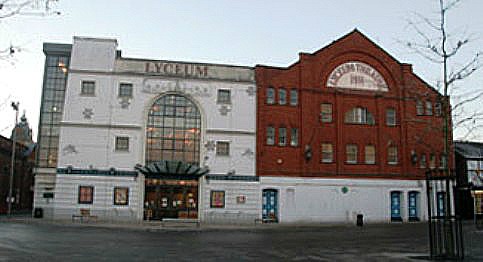 The Scouts will be in town this week – performing their Scout Gang Show at Crewe Lyceum Theatre.
More than 100 Scouts and leaders from across Crewe and Nanwtich from all sections will be embracing the Scout Gang Show tradition of song, dance and comedy including items from films and West End shows.
Tickets for the Lyceum performances on April 30 and May 1 to 3, are from £8.50. There is a £1.50 booking fee per ticket.
Shows start 7:15pm, with a special Saturday Matinee performance at 2.15pm on May 3.
On Sunday May 4, Mamma Mia Murder Cabaret Mystery will be on stage from 7.30pm.
You have a chance to join in a murder mystery show in the Lyceum Circle Suite. Your can sing along, dine on a three-course meal and solve the crime as a bride to be tries to discover who her real father is.
Tickets are £35, including three-course meal.
"Birds of a Feather" TV star Lesley Joseph stars in "Hot Flush" which comes to the Lyceum on Tuesday May 6 at 7.30pm.
It is a girls' night out comedy musical of friendships, secrets, laughter and tears of four ordinary women living extraordinary lives as they go through ups and downs of middle age.
Tickets are £21, concessions and groups 10+ £2 off. There is a £1.50 booking fee per ticket.
Kaaren Ragland, a 70s and 80s Supreme, leads "Motor City Memories" on Wednesday May 7.
The group of soul singers perform the chart-topping songs of Motown's finest acts.
The evening features a special appearance by guest Louis Price, formerly of The Temptations and The Drifters.
Tickets £18 stalls/circle, £16 gallery. Concessions £2 off. There is a £1.50 booking fee per ticket.
Then Rhapsody Queen rolls into Crewe on Thursday May 8, following sell-out international performances that celebrate Freddie Mercury and Queen.
The night features performances of classics like Radio GaGa, Under Pressure, The Show Must Go On, A Kind of Magic and of course, the legendary Bohemian Rhapsody.
Tickets £18.50. There is a £1.50 booking fee per ticket.
And on Saturday May 10, classic rock and rollers "Showaddywaddy" will be performing as they celebrate more than 40 years in the music industry.
With 20 million records sold, these lads from Leicester bring a dynamic and uplifting show to the Lyceum.
Tickets £19. There is a £1.50 booking fee per ticket.
For more details on the all the above shows, visit www.crewelyceum.co.uk