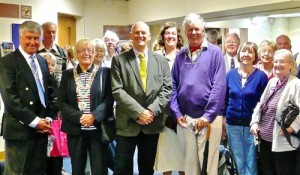 Nantwich Civic Society entertained 31 members of Lancaster Civic Society with a trip around the town.
They were met at Nantwich Civic Centre by Civic Society members and Town Mayor, Christine Farrall before enjoying a tour of the town.
Nantwich Museum's town guides Kate Dobson and Barry Aspbury gave them an insight into Nantwich's historic buildings during the tour.
Then at the museum on Pillory Street, museum trust chairman Nick Dyer and volunteers showed them around the exhibits.
The group lunched in town before continuing to Beeston Castle and St Boniface's Church, Bunbury.
Chairman of Nantwich Civic Society Jeff Stubbs said: "The visit by our Lancaster colleagues was most welcome.
"Despite the heavy rain, the visitors saw and learned just what an interesting and historic place Nantwich is.
"They had their appetites wetted for a return visit in more detail – and hopefully in better weather."
The Lancaster visitors have invited Nantwich Civic Society to a reciprocal visit in the near future.
(pic: front l-r: David Farrall, Nantwich Town Council Mayor's consort; Christine Farrall, Nantwich Town Council Mayor; Jeff Stubbs, Chairman of Nantwich Civic Society; Mr and Mrs Roger Frankland, Lancaster Civic Society)