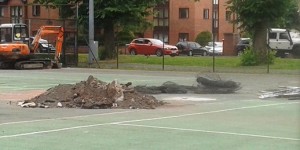 Council leisure bosses in Nantwich have been 'slammed' – for ripping up the town's tennis courts at the start of Wimbledon fortnight.
Hundreds of residents have been denied a chance to play on the three courts at Barony Park Sports Complex during the busiest time of the year.
Some were stunned when they turned up on Monday to find piles of rubble strewn across the courts, nets ripped down, and safety barriers and cones barring access.
One punter who wanted to play, tweeted: "Brilliant! Wimbledon starts and Nantwich decides to rip up its tennis courts. #howtofindanothermurray"
Another said: "Absolutely crackers, they were full at the weekend! Does no one on the council have brains?"
Willaston and Rope Cllr Brian Silvester called the decision "madness".
He said: "It beggars belief the council would be so daft as to do this.
"When Wimbledon starts many people who have not played for a long time pick up their rackets and decide they would like a game of tennis.
"There is even more demand this year because of Andy Murray winning for the first time for 77 years last year.
"The council has a duty to encourage healthy exercise so to close down all the tennis courts in Nantwich at the point of peak demand is absolute madness."
Nantwich Town Cllr Arthur Moran added: "Whilst we welcome the refurbishment and nice to see some investment, it's illogical to do it at the time we've got the most interest in tennis.
"Wimbledon brings out many more people keen to have a go and use public tennis courts but who are not members of a club.
"It's very bad timing."
The sports facility is now managed by Everbody Sport & Recreation, after Cheshire East agreed to re-launch its leisure service as an independent charitable trust.
But it's believed that Cheshire East are still responsible for the maintenance of the facility.
However, Barony Park Sports Complex issued a "customer notice" on its Facebook page last week, which said: "Our tennis courts will be closed from the Monday 23rd June until further notice. This is due to the courts being resurfaced.  Watch this space for further information."
Nantwichnews has contacted Cheshire East Council and Everybody Sport & Recreation and we are awaiting their reply.
The nearest publicly-funded leisure centre with tennis courts is Shavington, four miles away.