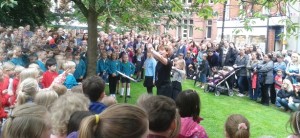 Thousands of people crammed into Nantwich today for the town Fete and annual SkoolsFest event.
Proud parents watched hundreds of primary school youngsters sing and dance on the green in front of St Mary's Church.
Many classes also went on to perform music, dance and plays at the Nantwich Civic Hall, St Mary's Church and parish rooms throughout the day.
It culminated in a fine performance by Nantwich Young Voices and an exciting Battle of the Bands competition.
Also in the town centre was a farmer's market and lots of other stalls, crafts, games and entertainment, including the Co-op Wind Band, fairground rides, Punch and Judy, face painting and maypole dancing.
Nantwich Museum was showing off an exhibition of artwork by pupils, there were writing workshops in Nantwich Library, and wet sponge throwing in the Pillory Street stocks!
Town cryer John Parsons and community radio station RedShift Radio kept everyone informed throughout the day.
Schools taking part included Pear Tree Primary and Broad Lane, in Stapeley, St Anne's RC Primary, Millfields Primary, Wyche Primary, Wrenbury Primary, Highfields Primary, Weaver Primary, Willaston Primary, St Oswald's Worleston, Acton Primary, Sound and District, Audlem St James Primary and Bridgemere Primary.
Pupils and staff from Brine Leas Academy and Malbank School were also involved, with Brine Leas headteacher Andrew Cliffe hosting the musical events at the Civic Hall throughout the day.
Nantwich Fete organiser Shaun Cafferty said: "It's been a fantastic day, really busy. It's been hectic to organise, with so much going on, but everyone has been great wanting to get involved."
Nantwich Mayor Cllr Christine Farrall added: "What a wonderful occasion! There has been so much going on, and the rain held off which was a bonus!"