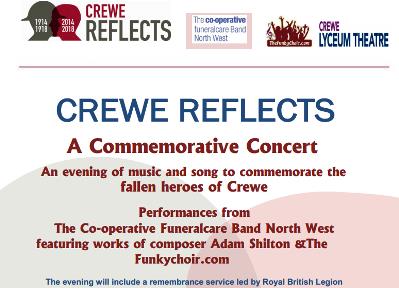 A commemorative concert for fallen heroes of South Cheshire is to be held 100 years after the start of the First World War.
Called "Crewe Reflects – a Commemorative Concert", it includes a premiere of new work combining original music, film and writing.
It will be held at 7.30pm on August 4 at the Lyceum Theatre.
It will mark the centenary of the day Britain declared war on Germany, marking the start of 'The Great War'.
The concert is part of Cheshire East's programme to commemorate the war – which is called 'Cheshire East Reflects'.
It will feature a service of remembrance led by Royal British Legion.
A world premiere of a film 'Where the Fallen Live Forever' will be shown, written and created by Adam Capper, with help from author Mark Potts.
It will include a specially-written score by composer Adam Shilton, from Manchester Metropolitan University's department of contemporary arts.
It also features theatrical tributes to soldiers of the First World War performed by local choirs.
Performances will come from the Co-operative Funeralcare Band North West and Nantwich-based The Funkychoir.com
Cllr Gordon Baxendale, Cheshire East Council lead on First World War commemorative events, said: "This should be a fantastic event.
"It will be an especially poignant occasion – not just for Crewe and Cheshire East but for Britain and the world as a whole.
"It is only fitting local community groups are centrally involved in commemorating the start of the First World War.
"This cataclysmic conflict affected every community deeply and its impact profoundly shaped the modern world.
"It is great to see this sort of partnership work in our communities.
"I would urge people to come along and support this commemorative concert.
"Take the opportunity to experience a unique and original performance which has been specially created to reflect on the tragic losses caused by the Great War."
To find out more and to book tickets, contact the Lyceum Theatre Box Office on 01270 368242. All tickets £10 (a £1.50 per ticket booking fee will be added).
Cheshire East Reflects is a four-year programme of activities, events and development programmes to commemorate the centenary of the First World War.
If you would like to promote you community's commemorative events, or get involved, or have stories to share from this period, please visit the Cheshire East Reflects website at www.cheshireeastreflects.com/