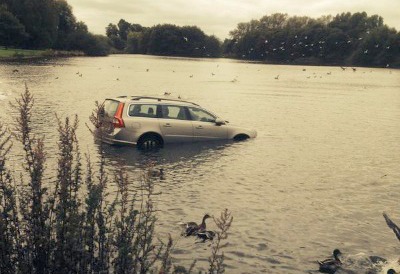 Police and fire crews were called to Nantwich Lake after a car plunged into the water.
Stunned onlookers watched as the silver estate car rolled into the lake off Park Road, which was busy with visitors.
It was initially thought one person was inside the car at the time.
These pictures sent in by Nantwichnews readers show the car after it rolled down the entry slipway and became half submerged in the water.
One eyewitness Matt Carr said: "I was stood next to the car with my young daughter when it flew past me into the lake, I thought someone was driving it at the swans!
"But in fact it was driverless. I called 101 as there was no one around and within five minutes there were two fire crews and two ambulances.
"The driver returned shortly after and there was a big argument between himself and his wife. I watched for a while before sneaking off!"
Another witness Martyn Kinch said: "It's lucky no one was hurt. Fire crews were here very quickly to rescue it.
"I was just walking past the lake and saw it.
"The call was person trapped in car in lake hence huge turnout of emergency vehicles."