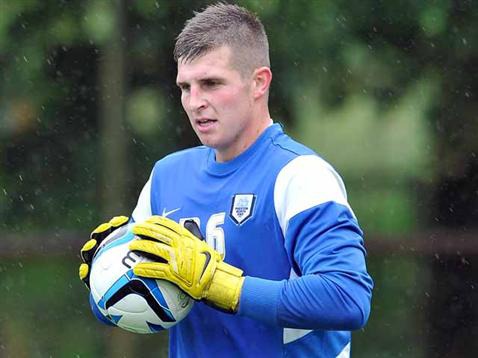 Nantwich Town manager Danny Johnson praised young keeper Steve James following their 3-0 defeat by Grantham at the Weaver Stadium.
James (pictured) has signed a one-month loan from Preston North End to cover Terry Smith.
Smith could be out for four to six weeks following an injury he suffered at Kings Lynn Town.
And although the Dabbers slumped to a 3-0 home defeat in a disappointing night on Tuesday, Johnson laid the blame at the feet of his defenders, not his new keeper.
Johnson said: "I can't fault Steve, I think he has done alright.
"What I can say is that the first goal is from poor defending.
"So is the second. Players are diving in and not staying on their feet. The first two goals are dreadful defensively from us.
"Then they stick the free kick in which was a poor tackle from Adam Jones on the edge of the box.
"Until we start defending we are not going to get anywhere.
"We will have a long hard chat on Thursday at training and get ready for Salford because we are not a bad team, once we get the players back."
Nantwich currently have seven players out through injury and suspension.
But Johnson says he can't make new signings.
He said: "We can't bring anyone else in. That is the difficulty of managing at this level. We simply can't.
"We have just got to get the lads who are on the treatment table ready and get them as fit as quickly as possible.
"It's a lot of players to have out at any one time, but on the bright side we are still mid-table or just below mid-table and we are only a few games into the season.
"Now we have a massive game on Saturday in the FA Cup away at Salford."