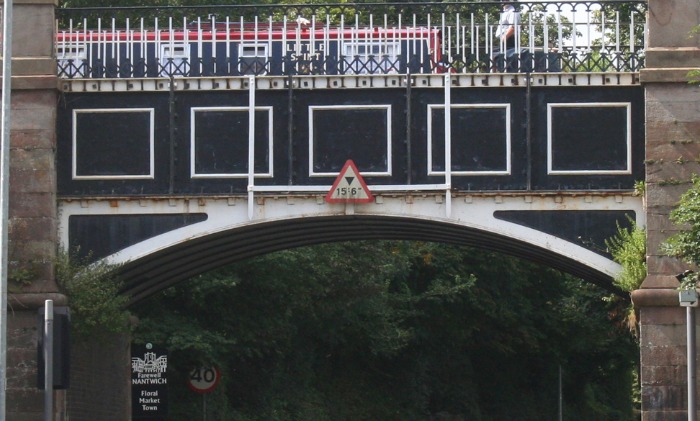 Nantwich Aqueduct is set to undergo a £200,000 overhaul after councillors agreed to part-fund the project.
A £20,000 contribution by Nantwich Town Council will mean the Canals and Rivers Trust could start the work as early as March 2015.
The structure will undergo repairs to brickwork and painted, have a missing panel replaced, and have new signage and boards, and overgrown vegetation removed.
The Canals and Rivers Trust is to put £130,000 towards the project, with contributions from Nantwich Town Council, a further £40,000 from Cheshire East Council, and £5,000 from Acton Parish Council making up the shortfall.
The structure at the end of Welsh Row has been left in a deterioated state for years.
And despite a heated debate over the £20,000 contribution, Nantwich councillors voted in favour at a meeting last night (October 13)
Cllr Arthur Moran, who made the proposal for the contribution, said: "This is a very important gateway to the town.
"But it's been in terrible condition, and this work is long overdue. It's an opportunity we must not lose, and we must put this right.
"It's a project that will go a long way to enhancing the gateway to Nantwich from the side of the town."
But other councillors, including Cllr John Lewis and Cllr Jon Hopkin, called for more details and questioned whether Cheshire East should fund the whole project.
"It lacks detail," said Cllr Lewis. "It seems too simplistic and needs more consideration"
Cllr Hopkin questioned whether section 106 agreements attached to large housing developments in the town should pay for all the project.
However, the Canals and Rivers Trust says the project must be started by March next year or the funding will be lost.
Cllr David Marren said: "I hope we are council that does things as opposed to pontificating.
"This council has been moaning about the state of the aqueduct for years, now we've got the opportunity to do it – or we could just got back to moaning about it!
"We can fix something that has been a concern for a very long time and it won't cost us a great amount of money.
"I don't want to be the partner that spoils this scheme. I say we can afford it."