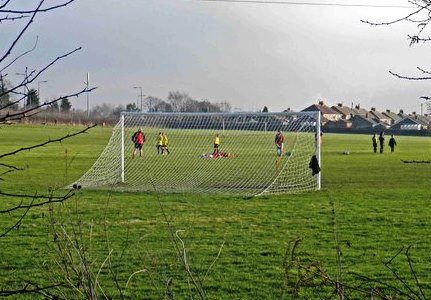 Leaders FC Semtex maintained their lead in the Crewe Regional Sunday League Premier Division  with a 4-1 win at Ocean.
And Square One took advantage of slip ups by Railway Hotel and Sydney Arms to move into second place with a 4-1 win over Talbot.
Dodd, Hardman, Chesters and Ruane netted for Square One, Gordon scored from the penalty spot for Talbot.
Sydney Arms led 1-0 with a goal from Vinny Pownall until the 80th minute when Henry Buckley replied for NHB.
Railway Hotel lost their unbeaten record, slipping to a 3-1 defeat at Willaston White Star whose goals came from Ben Burrow, Asher Moat and Keilahn Annikey. Lee Mellor scored for Railway.
Dale Broadfield netted a hat-trick as Crewe Athletic beat AFC Barkode 7-0 with the other goals coming from Shannon Sinnott Jnr, Paul Edwards, Paul Crimes and Dennis Peake.
In Division One, leaders Leighton could only draw 1-1 with Sandbach Town, Gareth Blackshaw scoring for Leighton and Aidy Tonks replying for Sandbach.
Faddiley moved back to second place with a 6-2 win over Crewe FC, Ash Lawton and Leigh Berrisford both netting twice with other goals from Henry Wharton and Joey Hilton. Louis Everall scored both goals for Crewe FC.
Wistaston Ath kept up pressure at the top with a 5-1 win at Rookery Tavern with goals from Jordan Smith (2), Lee Jones, Jack Turner and Leo Davies.
Rising Sun returned to winning ways with a 5-0 win over Boot & Shoe Villa thanks to a hat-trick from Steve Pattinson and further goals from Daz Lockett and Damien Sloan.
Andy Garrett scored a hat-trick for Bank Corner as they beat Santa Maria 4-1 with the other goal from Scott Slaney. Dominic Latham netted the consolation goal for Santa Maria.
Nantwich YF and Haslington shared six goals in a thrilling 3-3 draw, Chris Cliffe, Andy Ward and Dave Sherwin netting for the Farmers and Kyle Mahoney, Dec Stubbs and Aaron Capper replying for Haslington.
Bottom club Audlem led 2-1 at half-time against Salvador before Salvador replied with four second half goals to win 5-2.
Salvador scorers were Ben Stevens, John Dawson, Derrin Oosterhuis, Keiron Banks and Ged Beardsnith, Pete Jones and Andrew Bettley scored for Audlem.