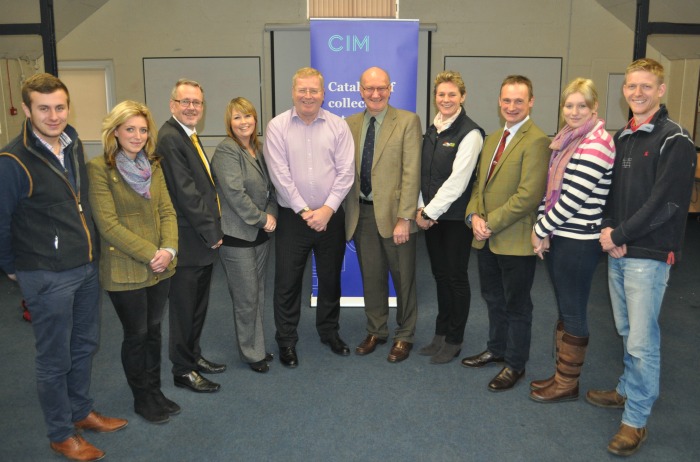 Reaseheath College students in Nantwich gained advice on planning their futures at an inspirational session with industry experts.
Eighty students attended the event, sponsored by the Food, Drink and Agricultural Group of the Chartered Institute of Marketing (CIM).
It was run by the Reaseheath Agricultural Development Academy (RADA) and the Nantwich college's agricultural department.
The panel consisted of Philip Mclaughlin (Agricultural Manager HSBC); Lisa Williams (Senior Consultant, Promar International and Genus plc); David Hall (Northern Manager EBLEX); Hayley Verney (Technical Sales Manager, AllTech) and Richard Ratcliffe (farmer and Vice Chair of Reaseheath Governors).
Topics included jobs and careers available, how to launch and build a career, opportunities available and what employers look for in potential staff.
Clear vision, a robust business plan, a critical understanding of the marketplace and a sound grasp of modern technology were among key attributes identified by the panel as being success factors.
John Giles, of Promar International who chaired the event, said: "It is essential agriculture and food production industries engage with talented young people and fire up their enthusiasm as to what they can achieve after studying.
"There are limitless opportunities in the UK and abroad, not just in farming but in areas such as human resources, finance, market analysis, IT, administration and in the legal field.
"The audience at Reaseheath was full of bright, intelligent and well informed young people and the standard of questions was as high as at any event, anywhere in the country."
Harley Sneyd, a dairy herd management student at Reaseheath, said: "The panel was really informative and I gained a real insight into which doors may open for me in the future.
"I was particularly interested in hearing their views on the future of females in farming, and found the numbers of women in top jobs very inspirational."
Robert Yardley, an agriculture undergraduate, added: "It has been brilliant learning what is available throughout the farming and food sector.
"I've seen another side to the industry and this will be very useful to me."
(Pic: Reaseheath students James Davies, Isabella Knowles, Robert Yardley and Harley Sneyd join industry speakers Philip Mclaughlin, Lisa Williams, John Giles, Richard Ratclifffe, Hayley Verney and David Hall)