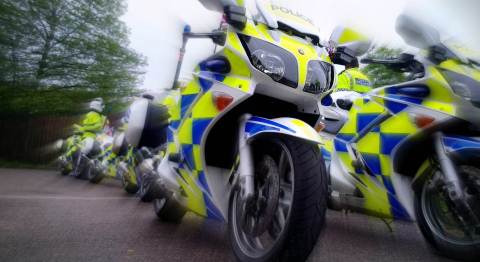 More than 400 suspects across Cheshire have been screened in custody as part of Operation Shield.
A total of 433 people, who have passed through Cheshire Police's three custody suites, have been screened as part of the forensic property marking initiative.
Almost 200 of those have been in the past week.
Offenders marked by the spray can shower and wash their hair thinking they are free of any
traces.
But under a special ultra violet light police can detect they have been involved in a crime.
And removing a sample and checking the DNA code to premises it is registered to forensically links the suspect to the crime.
The operation, launched on March 2, is targeting those who commit theft and burglary.
Assistant Chief Constable Mark Roberts said: "All tests in custody for the traceable liquid have
resulted in a negative result up to now − reinforcing the message that Operation Shield is making its mark across the county.
"The aim is to deter would-be thieves and burglars − and provide reassurance for residents.
"We will continue to screen suspects as they are brought into custody.
"My message to criminals in Cheshire is be extremely nervous about committing any crime in an Operation Shield protected area or premises. One spray could put you away."
Around 1,000 property marking kits, containing traceable liquid that residents can use to mark valuables, have been delivered to homes across the county.
The DNA system is unique to each address and helps identify stolen items if they are recovered.
Offenders committing crime can also find themselves marked with the forensic liquid which
stays on hair, skin and clothes.
Cheshire Police has also written to 350 known offenders highlighting Operation Shield.
ACC Roberts said: "We take burglary very seriously in Cheshire and have seen a 15% drop in recorded incidents in the county last year which means 400 less people suffered from this distressing crime."