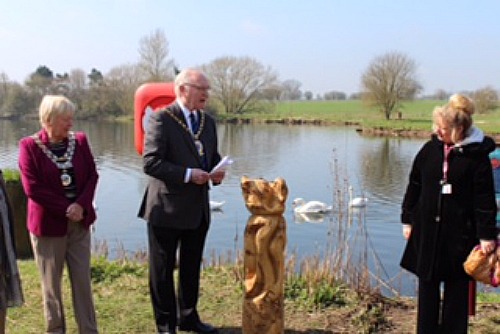 New signs and a wooden swan sculpture have been unveiled to the public at Nantwich Lake.
The project was a joint venture between Cheshire East Council, Ansa Environmental Services Ltd, RSPCA and the Dog's Trust.
Local residents and community groups were invited to witness Mayor of Cheshire East Council Cllr Wesley Fitzgerald, unveil the wooden sculpture.
Signs have been erected around the lake on Shrewbridge Road, offering advice from RSPCA and Cheshire East about how to best support the surrounding wildlife.
Elaine Webster, business development officer at ANSA Environmental Services, said: "This is such a beautiful area.
"It attracts such a variety of people, those want to walk their dog, feed the swans, look at the wildlife, even some anglers on some areas.
"These things aren't always compatible, so really today is a day of good advice, to say to people we all need to work together, to treasure it.
"By doing a few simple things, such as keeping dogs on leads to avoid frightening the ducks into the roadway, or even considering what we feed the ducks."
Organisation representatives, Mayor or Nantwich Town Council and local residents, gathered for the Mayor of Cheshire East's unveiling the swan sculpture.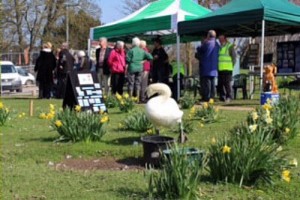 Cllr Wesley Fitzgerald said: "It is all about good practice so the area can be used in harmony.
"We have got to pay tribute to local people here who look over this and take care of it's welfare, so well done you and keep up the good work."
The Dog's Trust was present, offering a free dog chipping service, health checks and provided general advice to owners.
Mayor of Nantwich Town Council Cllr Christine Farrall said: "It's a different view every day at the lake, and it has something to offer all ages.
"Hopefully people who use Nantwich lake will have chance to read the signs.
"Life has to have rules, and if we want to keep something as idyllic as this beautiful scene, people have to observe respectful behaviour."