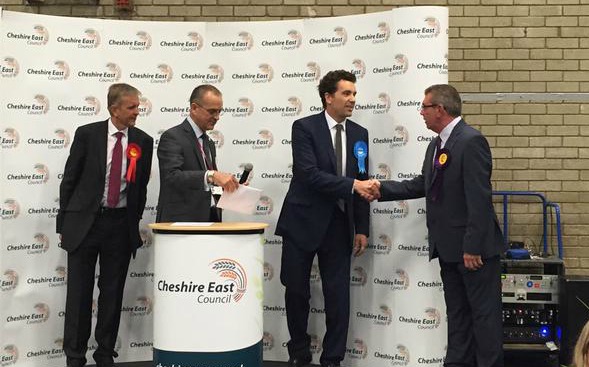 Edward Timpson described his "relief" after being voted back in as MP for Crewe & Nantwich for another five-year term.
The Conservative MP won a tightly fought contest by securing 22,445 votes.
It was a majority of 3,620 over Labour candidate Adrian Heald who notched 18,825 votes.
And after the result, Mr Timpson told Nantwichnews how he intends to push on with major projects to benefit Nantwich and Crewe.
"I'm relieved to get to this point and to be given the opportunity to get things done for local residents, whether that's the active 14,000 cases I've been able to help with or other things," he said.
And he dismissed the reduced majority of 3,620, saying it was "always going to be a keenly fought contest".
He added: "Crewe was a Labour seat for over three decades before I won the by election in 2008.
"So I've really had to work hard to prove my worth in this seat, so it's all the more gratifying that the public feel I still have something to offer them."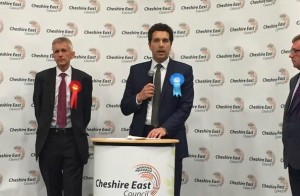 Mr Timpson hailed major projects like HS2, Leighton Hospital improvements, University Technical College and the railway exchange training academy as some of his successes in bringing more jobs and opportunities to Crewe and Nantwich.
"I want to build on the progress we've made, halve youth unemployment, bring in major investment like Bentley, and lobby for a hub station and HS2.
"I want to make sure  that there is continued growth and jobs, raise education standards in Crewe and Nantwich, and improve the quality of teaching."
Some have tipped  Timpson for a seat in the Cabinet when David Cameron looks to put his new top table together.
But the Minister for Children and Families insists he is keen to continue in his current role.
"It's a role I cherish," he added. "To ensure the most vulnerable in our society get the best start in life and better prospects for the future."
He paid tribute to Mr Heald for what he called a "very hard fought fight" in "good humour".
A disappointed Mr Heald said they could be pleased in increasing the turnout in some Crewe wards where previous figures were very low.
"Labour has done well in Crewe & Nantwich," he said.
"We've increased our share and increased the turnout in the areas of Crewe where turnout has been previously low.
"We've built a strong base for Labour in Crewe & Nantwich, a strong foundation, and I thank all of the people who have worked with me and supported me over the last two and three quarter years.
"It's the beginning of a new birth for Labour here and we'll be back one day."
UKIP candidate Richard Lee said he was "delighted" after he secured almost 15% of the vote in Crewe & Nantwich.
Like many constituencies around the UK, his party had a strong showing, but votes could not be turned into seats.
"I said anything over 10% would be a victory for us, considering we only had 2.8% in 2010," he added.
"We can really build our membership from this and move forward."
In a disastrous night for the Lib Dems,  Crewe and Nantwich candidate Roy Wood polled just 1,374 votes. Mr Wood failed to attend the declaration.
(Pic by Kirsty Rollings)