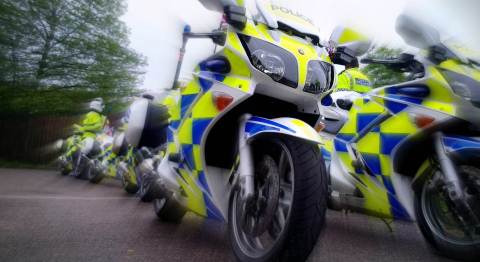 Motorcyclists in Cheshire face a police crackdown after one was caught speeding at 120mph on a 60mph road.
Operation Caesar is to use unmarked police bikes to catch motorcyclists speeding in Cheshire's roads.
The new bikes are equipped with four cameras which record the view from the front, rear and side of the bike as well as the speed it is travelling at.
One of the first offenders they caught was on the A54 near Winsford.
He was convicted of dangerous driving of a motorcycle after an unmarked police bike filmed him going from 0-120mph in a 60mph zone from Sandybrow traffic lights to the Fishpool restaurant.
Sgt Rick Weaver, of Cheshire Police Roads Policing Team, said: "These unmarked bikes pose a real threat to motorists and bikers who flout the rules of the road in Cheshire and put other road users in danger.
"This man was speeding at more than twice the legal limit for the road.
"At that speed, the slightest mistake either on his behalf or that of another road user could have had fatal consequences for himself or others.
"The evidence from the cameras onboard the unmarked bike led to this individual receiving a 12-week suspended prison sentence suspended for 12 months, 18-month disqualification and having to take an extended driving test, 100 hours community service and a total of £345 costs.
"These new bikes will be a great tool in combating those who believe they can ignore the rules of the road in our county."