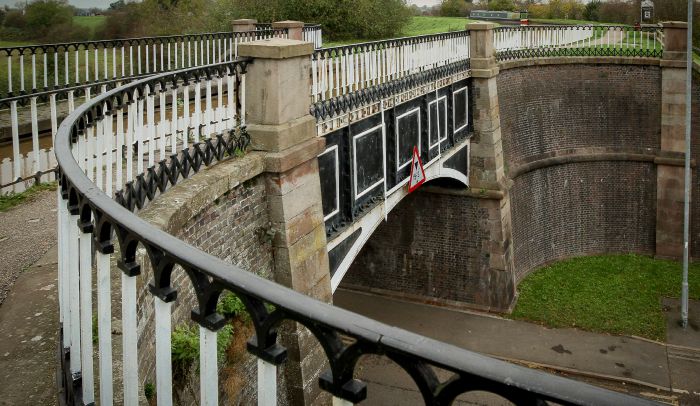 Work to repair and restore Grade ll listed Nantwich Aqueduct will begin on September 14.
The £200,000 restoration project, which will take eight weeks, is being paid for mostly by public donations of £135,000 to the Canal and River Trust.
Other contributions have come from Cheshire East Council (£40,000), Nantwich Town Council (£20,000), £3,000 from Acton, Edleston and Henhull parish councils and £2,000 from Nantwich Partnership.
Work will include improvements to towpaths to create attractive walking routes, plus other related projects in and near the town of Nantwich.
It's all part of the partnership's vision for celebrating the town's waterways history and the contribution it makes to the boating holiday economy through boat-hire marinas.
The Thomas Telford structure, carrying the Shropshire Union Canal, dates back to 1826 when canals were king and contributed to the industrial revolution.
The restoration project involves crucial repairs to the structure, new signage and painting and the removal of overgrown vegetation.
The aqueduct comprises a cast iron trough supported by six cast iron arch ribs.
It is structurally sound but is in need of urgent maintenance and restoration.
Leader of Cheshire East Council Cllr Michael Jones said: "This is an important investment in the preservation of our historical landmarks and monuments in Cheshire East.
"We are fortunate to have such a popular waterways network in the borough.
"There is a vibrant tourist economy surrounding our waterways and the Nantwich Aqueduct restoration project is crucial to the continuing growth of that economy."
Cllr Peter Groves, who represents Nantwich South and is Cabinet member for finance and assets, said: "This partnership has done fantastic work in raising the necessary funds and creating awareness and interest around the importance and value of maintaining this historic waterways landmark.
"If we do not carry out this work, then it will be far more costly in the long term.
"We should also acknowledge the aqueduct is a tourist attraction for Nantwich and a great feature of the town's landscape.
"We are grateful to Sheila and Bill Saner at Nantwich Marina for all their help at their open day when visitors were able to learn all about the aqueduct and the restoration project."
The work will be carried out by the Canal and River Trust – the waterways charity which cares for 2,000 miles of canals and rivers in England and Wales.
Project Manager Marc Evans said: "For almost two centuries, this iconic aqueduct has carried boats over the Chester Road – but, like many historic buildings, it requires specialist conservation repairs from time to time.
"The planned work will bring the aqueduct back to its former glory as an impressive gateway to the town.
"Currently we are hoping to source extra funding to be able to repair brick and stonework as part of this project."
The works mean the temporary closure of the B5341 Chester Road at the cross roads of Welsh Row and Taylor Drive from September 14 to November 9.
Diversions will be in place along the A51 Barony Road, Beam Street A530, and Waterlode A534.
Pedestrian access will remain beneath the aqueduct and the canal towpath will have to be diverted. Canal navigation will be unaffected.
Cheshire East Cabinet member for highways Cllr David Brown said: "These works have been timed to start after the main summer trade period for businesses at the marina and will be completed before the Christmas season begins.
"This has been done in full consultation with local members, the Cheshire East transport team, local businesses at the marina and Malbank School."