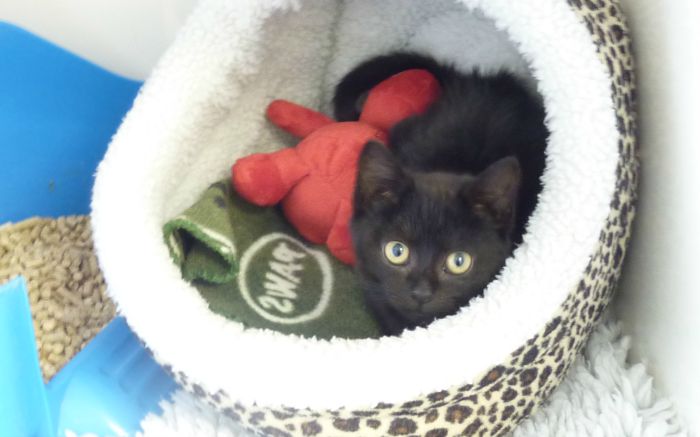 Staff at a Starbucks store in South Cheshire were shocked to find a kitten dumped in a bin outside their coffee shop.
The seven-week-old black kitten was found by an employee as he went to put a bag of rubbish in an industrial bin at the back of the store in Holmes Chapel Road, Middlewich.
But he saw something move and immediately went to get his manager.
The kitten has now been taken to the Stapeley Grange RSPCA cattery and wildlife centre in Nantwich for care.
Staff have called her Starbucks – after the store where she was found.
Liberty Bond, manager of the store, said: "We saw it was a little kitten and she was terrified. We had to empty the bin to get her out – and it is a big bin!
"When we got her out her heart was beating so fast, she was so scared.
"I took her to the vets where they checked her over.
"These bins are massive and heavy – there is no way she could have got in there on her own because they have lids and we never leave them open to stop rats from getting in. When she was found, the lid was shut.
"It's horrible to think that somebody could have dumped her there. We're just so glad that we found her when we did, I dread to think what would have happened if we hadn't have found her."
Starbucks the kitten is now being cared for at the RSPCA's Stapeley Grange Wildlife Centre and Cattery, in Nantwich, Cheshire.
The store is now hoping to raise money for her and Stapeley Grange by collecting donations from customers.
Lee Stewart, manager of Stapeley Grange Wildlife Centre and Cattery, said: "We thought it was fitting to name her after Starbucks, where she had been
rescued.
"She is such a lovely kitten, very friendly, and will make a lovely companion to someone.
"It is dreadful that she may have been dumped by someone in a bin, possibly left there to be forgotten.
"It is a callous thing to do and we are so grateful to Liberty and the staff at the Starbucks store for finding her."
If you would like to help RSPCA Stapeley Grange with a donation of just £3, simply text RSPCA2 to 70007.
Texts cost £3 + standard network rate.