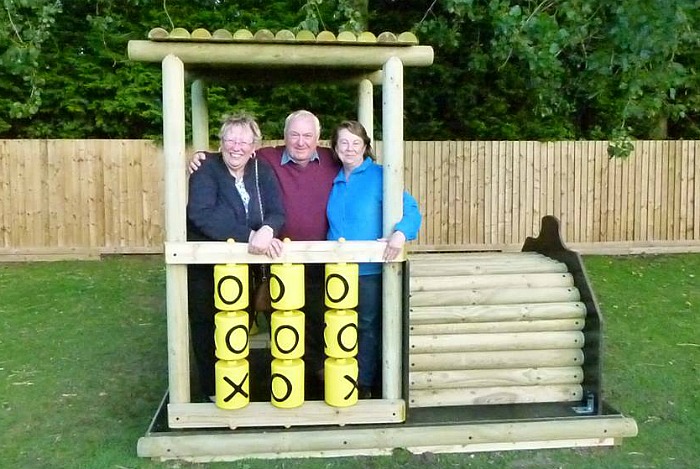 A big-hearted Nantwich mum went full steam ahead to raise £1,000 for a playground train!
Super gran Ann Aspinall donated money from her 60th birthday party and arranged other events for the new equipment at Wingate Children's Centre in Wrenbury.
She also arranged a dance at Willaston Club with local band HEX and a local DJ giving their time for free to raise more money towards the train.
"Well at last the train has arrived – and how good does it look!" said Ann.
"I hope the children will have great fun on it.
"It's great to show people who donated money what it went to."
It's not the first time Ann has given her time up to help others.
In the past she has been involved in Operation Christmas Child to send boxes of gifts to children in impoverished countries.
And Ann was one of the main organisers of the "Turn Nantwich Pink" charity events a few years ago, which helped raise thousands for Breast Cancer charities.
But it was one visit to the Wingate Centre which sparked her desire to help out.
"I went to a children's party at Wingate with my granddaughter a few years ago and met Hazell Gregory who is the housekeeper there," she said.
"She told me how the children get such pleasure out of going there, then she showed me the bedrooms where they put a teddy on every bed for the children to keep.
"It hit me in the heart and I've been helping to fundraise ever since.
"I started by getting people to donate teddies, then went on to all sorts clothes, bedding, curtains, bric-a-brac for them to recycle for money for the children, as well as tombola gifts, raffle prizes etc.
"At my 60th party in 2013, I thought I don't really want presents at my age, so I asked if they would donate money to the Wingate which they did generously and I felt as if Id done something useful with my age.
"I wanted to buy a piece of equipment for the children and we came up with the Activity Train.
"To make the money up, I arranged a dance at Willaston Club with local band Hex and Shaun Stoddard DJ, all gave their time for free and between the two events we raised £1,000 for the train."
(Pictured: Ann with friends Kath Langdon and Nigel Burrows)