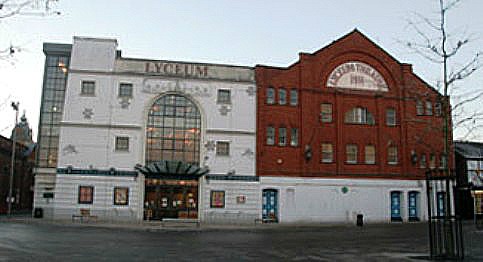 When I heard 'Seaweed's Gang' and the 'Nicest Kids in Town' would be at The Lyceum, I couldn't resist going to see the Curtain Call Productions show 'Hairspray'.
And it is everything you hope it will be.
Energetic, fun filled and bursting with life.
A feel good piece of theatre for everybody of any age.
Directed and choreographed by Joel Montague, the cast and ensemble filled up the stage to produce a wonderful show.
It tells us the story of 'Tracy Turnblad' and her hopes, dreams and wishes in 1960s Baltimore.
The cast were quite simply brilliant.
So good, I had to remind myself that the majority of those on stage are actually amateurs.
'Tracy' is played by the marvellous Lianne Lewis, who has an amazing voice and I'm sure is a star in the making.
Cast opposite was Sean Hargreaves as 'Link Larkin', Jacob McIntosh as 'Seaweed' and the delightful Rachel Clifford as 'Penny'.
All of the principal actors on stage looked like they were enjoying every single minute.
'Hairspray' is full of humour, and one of the funniest parts of the show was the duet 'You're Timeless To Me' between 'Wilbur', played by Rob Earle, and 'Edna Turnblad' played by Steven Coles.
Another stand out number was 'I Know Where I've Been', performed by Ejiro Melkam as 'Motormouth Maybelle'.
The audience was left astounded by the pure strength and quality of her voice.
At the end of the night the audience in the stalls gave the cast a well-deserved standing ovation.
It is a real pleasure to watch and support local groups at The Lyceum.
I hope the cast and crew are both pleased and proud of what they have produced and enjoy the rest of the run.
Hairspray is showing at The Lyceum until November 7.