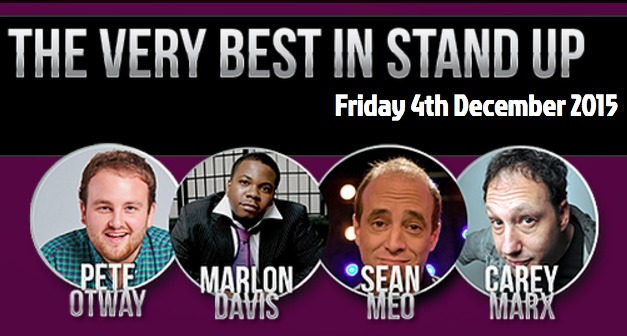 Nantwich Civic comedy promoters have done it again!
Four stunningly diverse and individually brilliant comedians delivered a show that is unrivalled for entertainment and value for money.
It was the last Very Best in Stand Up show of 2015 at the Civic Hall – and like many previous shows it did not disappoint a near to capacity audience.
The compere is a key cog in the machinery of this event – and Pete Otway was more than up to the task.
Young, cheeky, and possessing a razor sharp wit, Otway engaged the crowd from the first second he strutted on stage.
On this performance, it's easy to see why he made the finals of the BBC New Comedy Award and was chosen to perform at the Edinburgh Fringe as part of 'Just The Tonic's' prestigious Big Value Showcase in 2013.
His affable style kept the show ticking seamlessly along.
But for many, first act Sean Meo was the star of the night
Promoters have been trying for years to lure this veteran of the comedy circuit up to South Cheshire from his London base.
And we're so glad they finally managed it.
It was an unforgettable set – the former snooker player was right on cue with every gag.
No subject or individual is safe from Meo's brilliantly dark and dry outlook on the world – from Ebola, Islamic State to the sexual exploits of Stephen Hawking!
If you're looking for light, TV-style humour, this was not for you. As Meo himself said, there's nothing like live comedy.
Middle act Marlon Davis bounced on to stage in a bundle of energy which bowled everyone over.
Davis, a star of his own MTV series 'Brown Eyed Boy', shrieked, shuffled and shinnied his through the set.
Mostly hilarious, once or twice he didn't quite hit the mark.
But like a true pro, when gags don't work, he made sure the next one hit the bullseye.
Final act Carey Marx had no such problem – his rip-roaring outrageous blend of comedy never fails to score.
It sails as close to the edge as you can get – exactly what a headline act should do with a crowd perfectly prepped.
Marx has headlined and performed on the biggest comedy stages around the UK – and he brings his full 49 years to the show.
Three hours of hilarity, four top comedians, £10 entry. It's a no brainer.
Here's to a new season in 2016 – and the New Year's Eve special.
Find out more details at www.civiccomedy.co.uk