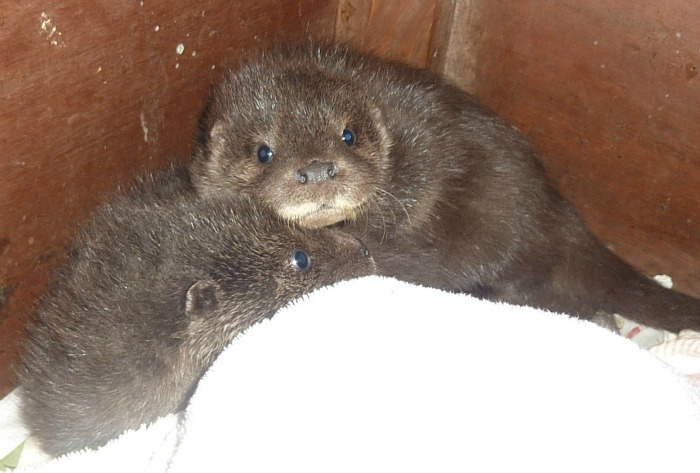 Baby otters orphaned by storms are working up a huge appetite – by eating half a kilo of trout a day at Nantwich's RSPCA wildlife centre.
The otters were found by a member of the public in Rea Brook, Shrewsbury, on December 23.
They were left orphaned after becoming separated from their mum during the recent storms.
In the wild, their mum would find the trout for them to eat.
But now the pair – who have been named Mary and Joseph – are being fed 500g of trout a day by staff at Stapeley Grange Wildlife Centre, on London Road.
Lee Stewart, manager at Stapeley Grange, said: "We have been monitoring them closely since they arrived and they are doing well considering what they have been through.
"They are very hungry though and they are getting through a lot of trout.
"Trout doesn't come cheap – it will cost us about £75 a month to start with.
"This will increase dramatically as our little otter pups grow.
"We are expecting to spend close to £3,000 on these two orphaned pups during their stay with us.
"We want to be sure that they are getting the right diet that they would have out in the wild, which would give them the best chance of survival when they are released."
Lee added: "In the past, otter pups have been triaged and stabilised here before being transferred to other specialised otter rehabilitation facilities, but with a more healthy otter population in the UK we are seeing more otter pups coming into care than in previous years, which means these facilities are filling up quicker.
"Thanks to financial support from WG Harvey Discretionary Settlement we now have the facilities to hold to on to them here for the nine months before they are returned to the wild."
To donate towards the otters' monthly food shop with a donation, text RSPCA2 to 70007. Texts cost £3 plus standard network rate.