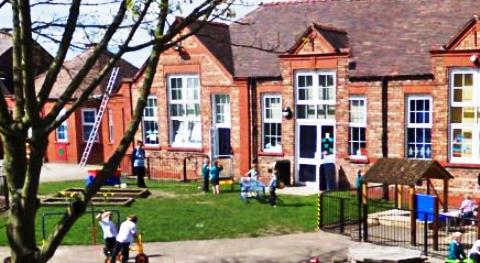 Nantwich Town councillors have voted to support Nantwich and Rural Children's Centre, which is threatened with closure by Cheshire East.
The centre, on Dog Lane, provides services to hundreds of families and their young children every week.
But Cheshire East Council is planning to "de-designate" the centre, by closing it down and replacing it with a mobile service.
Cllr Arthur Moran, Nantwich Independents, spoke out against Cheshire East at the town council meeting last night (February 8).
He said: "I've visited the centre, I'm very impressed with the facilities inside and outside.
"I simply cannot believe that this centre can be replaced by a mobile service.
"There are 1,727 children under the age of four in Nantwich and the rural areas, and 80% of these are registered with this centre.
"And 227 of these are in the top 35% in terms of deprivation.
"Cheshire East claims the plan is to make the service more mobile to reach rural areas, but this service already does."
The centre staff currently run dozens of services, including baby clinics and toddler groups in villages including Bunbury, Wrenbury, Audlem, Bickerton, and Minshull Vernon.
"If it's not  broken, why fix it? This is the message we should send to Cheshire East Council, " Cllr Moran added,
He also referred to a report to go before Cheshire East  this week which indicated £0.5 million could be saved by the "rationalisation" of children's centres.
"I hope this is not already a  done deal, when public consultation is still ongoing," he said.
Cllr Peter Groves, who is also portfolio holder for finance at Cheshire East, replied: "The consultation exercise does not close until February 12.
"There is still time to analyse the results of this consultation before recommendations go before the full council on February 25."
Cllr Moran's proposal that the town council should contact Cheshire East in support of retaining the children's centre, was put to the vote and carried.
Members of the public have until Friday February 12 to register their views, which they can do online at www.cheshireeast.gov.uk or on Nantwich and Rural Children's Centre Facebook site.