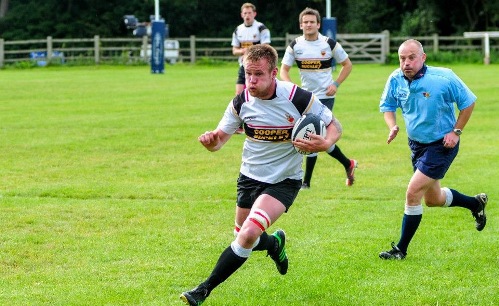 Crewe & Nantwich RUFC 1sts paid the price for conceding penalties as they were beaten 23-21 by Hereford.
The Vagrants side started in a similar manner to the previous two games against Worcester and Dudley by conceding a string of penalties.
And the visitors took advantage with penalty goals which ultimately the hosts could not recover from.
Hereford kicked six successful penalties and scored one well worked try – compared to Crewe who scored two tries, one conversion and two penalties.
For the last 30 minutes, young prop Kostja Vezanovs joined the forwards which meant Crewe & Nantwich had two props on the field aged only 18 years.
The scrum still maintained its dominance against older and more experienced opponents.
And the Crewe tries were quality scores.
The first came from a lineout on the left won by 2nd row Matt Wright.
The ball was moved swiftly to the midfield and from a ruck, it went right to flanker Josh Collins who provided a neat "round the back" pass behind a Hereford defender to hooker Eli Woodward.
Woodward powered through the last defender to score in the right hand corner.
The second try came in the second half and started with a line break by Woodward on the Hereford 10m line, linking with Joe Gammage who took the ball into the Hereford 22.
The ball was moved to the left and a neat offload by no 8 Oli Buckley enabled Collins (pictured) to burst through a gap and score in the left hand corner.
But the score was too little too late as Hereford hung on to clinch a narrow victory.
Meanwhile, Crewe & Nantwich 2nds lost 44-36 at Broughton Park.
Poor concentration levels in the first 10 minutes of both halves cost Crewe the game.
The excellent Broughton Park right winger scored five tries – the difference in the teams.
Crewe eventually increased the level of intensity and pressure on Broughton Park and they came back from 39-15 down.
Special mentions for Phil Alcock, Jim Creighton, Tom Vanstone and Tom Baldwin who were outstanding.
The 3rds had a fine win against Blackburn 28-0 to progress to the semi finals of the Cup, and the 4th team had a narrow defeat to New Brighton.