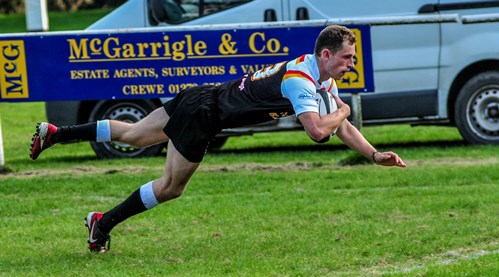 Crewe & Nantwich RUFC produced a fine away performance to defeat Silhillians 32-17 on the road.
The Vagrants side welcomed back fly-half Jim Creighton, Eddie Spibey on the wing, Ricky Evans at prop, Toby Ward at full-back and Joe Gammage (pictured) at centre.
And they helped Crewe enjoy the better of the early scrums and line-outs.
But individual errors hampered them in their own 22, eventually leading to a Silhillians try.
Crewe eventually settled to their task when scrum-half Keiran Allsop, was carded for a trip and the signs became ominous as Silhillians maintained their momentum.
However, with Creighton moving to scrum-half and Gammage to fly-half, Crewe were galvanised into action.
Creighton kicked a penalty after good work by hooker, Eli Woodward and then full-back Ward, showed his pace as he rounded the cover and ran in a fine try from the halfway line.
Silhillians replied with a catch and drive line-out try with many of their backs joining the driving maul.
The last word of the half was with Crewe as Creighton kicked a second penalty making the score 11-12 to Silhillians at the break.
Crewe turned up the pace and after a couple of attacks, finally put wing Cowap over in the right hand corner with a great touch line conversion by Creighton.
The visitors took control and a second try was scored by Ward after a backhand offload by Gammage created the opportunity, converted by Creighton.
Silhillians replied with another try to make the score 17-25.
An injury to the Sils hooker resulted in him being taken to hospital with a serious neck injury.
The teams moved to another pitch to finish the match with 17 minutes to play to allow the injured player to be treated.
Crewe sustained pressure in the Sils 22, and Oli Buckley reaped the reward of a catch and drive converted try by the forwards as he grounded the ball to complete the scoring.
Crewe & Nantwich 2nds won against Warrington at home and the 3rds put in a fine away performance against unbeaten Capenhurst 1st XV in the Semi Final of the League Cup losing narrowly 13-10.
The squad of 17 included a player on debut from the 4ths.
The 3rds now face a battle to secure promotion in their league.
The 4ths won against Old Bedians 109-41 in a festival of rugby with Crewe wing Ash Millington scoring three for Crewe and four for Old Bedians when he switched teams.
Next week, the 1st team is at home to Stoke in their final home game of the season, kick off 3pm.