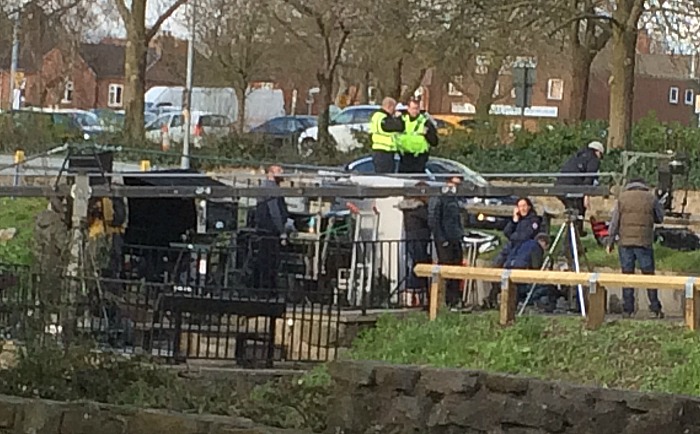 Camera crews have descended on Nantwich to film a new ITV eight-part thriller called "Paranoid".
The drama, by Red Production Company, stars big names such as Indira Varma, Robert Glenister, Neil Stuke, Lesley Sharp and Kevin Doyle.
Camera crews have been filming in a number of locations around Nantwich, along Welsh Row, Waterlode by River Weaver, and in venues like Residence on Mill Street.
Ben Rafferty, managing director at Residence, said: "The filming took over our whole venue!
"They called us the Residence Hotel, changed internal signage, filmed in the car park and in the lobby and bar areas."
ITV says the series is a conspiracy thriller which tells the story of a female GP who is murdered in a children's playground with an abundance of eyewitnesses.
A group of detectives embark on what seems to be a straightforward murder investigation.
But as they delve deeper into the case they are quickly drawn into the twists and turns of an ever-darkening mystery, which takes them unexpectedly across Europe.
The drama is written by acclaimed writer and producer Bill Gallagher, whose previous credits include The Paradise, Conviction, Love Life and Lark Rise to Candleford.
It is set in Cheshire in the small fictional town of Marshwell – and Nantwich has been chosen as the town to base it on.
Detectives Michael Niles (Neil Stuke), Nina Suresh (Indira Varma), Alec Wayfield (Dino Fetscher) and Bobby Day (Robert Glenister) begin to piece together what happened on the morning Doctor Angela Benton took her three-year-old son Luke to the playground.
Angela is set upon and stabbed by a man in a hoody whose face is covered from view.
The police team soon tracks the main suspect to the flat he shares with his brother.
Jacob Appley suffers from psychopathic schizophrenia with OCD tendencies and the evidence is compelling.
But is he the killer they so desperately seek?
Paranoid will be produced by Tom Sherry (Prey, Ordinary Lies, Scott & Bailey) and executive produced by founder and director of Red Production Company Nicola Shindler (Happy Valley, Ordinary Lies, Last Tango in Halifax) and writer and creator Bill Gallagher.
"We're really excited to be working with Bill Gallagher again," said Nicola Shindler.
"He's created a conspiracy thriller the audience won't be able to look away from.
"It's edgy, suspenseful and hugely ambitious as filming takes place in Cheshire and Germany."
Producer Tom Sherry added: "Paranoid lays bare the human and emotional story of a group of detectives hell-bent on capturing a killer, but there are unexpected twists and turns every step of the way."
The eight-part series has been commissioned for ITV by director of drama Steve November and controller of drama Victoria Fea.
Steve said: "Paranoid is a taut, compelling series with all the hallmarks of a classic psychological thriller.
"Bill has written some incredibly well-defined characters who embark on a terrifying murder investigation as it becomes evident from the outset that malevolent forces are at play."